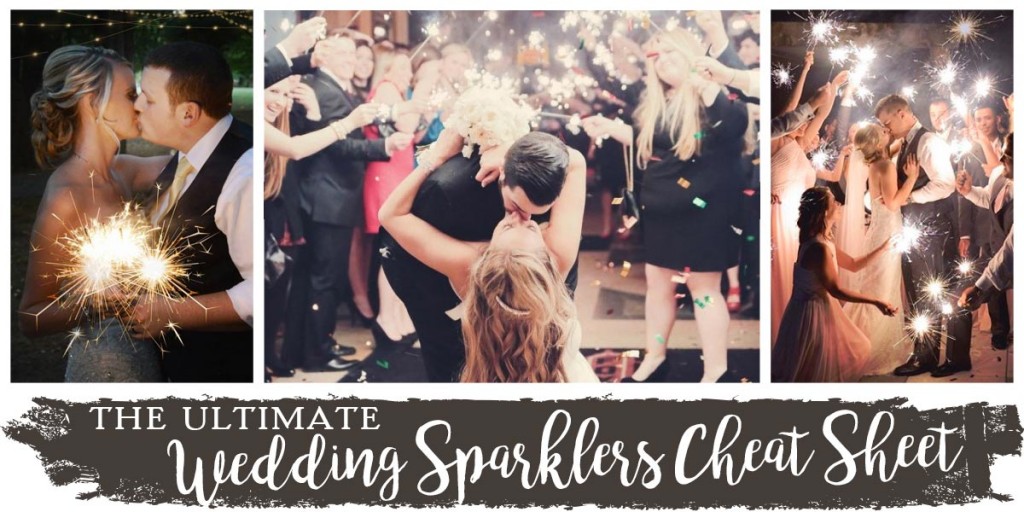 Planning out your wedding day factors in a lot of "firsts" that you won't experience until the actual day of the wedding. The first look, the first kiss, and the first dance are just a few of the first things  you experience as bride and groom. But another important thing to plan is the last thing you do at your wedding.
The exit.
Sparkler exits are hands down the best way to finish off your day. You add magic, sparkle, and the best photo opportunity of the day for your guests. There are some important things to know about sparklers and we wanted to provide you with all the information you'll need to have a fantastic sparkler exit. Let this guide be a resource for you, your wedding planner, photographer, and venue for a seamless finale to your beautiful day!
Choosing Sparklers
It's highly important that you choose a quality sparkler for your exit. There are many places to purchase sparklers, but we recommend you know exactly what you're ordering from a brand you trust. You also want to know how much time you have with the sparklers. Our 20″ sparklers have an easy-light tip, burn for about two minutes, and have a beautiful gold sparkle. Our 36″ sparklers are the largest sparkler available and burn for over three minutes!
Our customers love that these sparklers give ample time to take plenty of pictures. You'll have the chance to run through the exit several times to get the shot you want.
Customer testimonial: Used for outdoor pictures for my wedding in December. They lit quickly and burn for a few minutes allowing for several poses and pictures to be taken. Pictures turned out awesome, photographer loved the light they provided. ~Bob
Customer Testimonial: These were great for our wedding. They were delivered even sooner than promised and they worked wonderfully, even in the cold drizzly weather. They were as smokeless as possible and the photos turned out great. They lasted as long as promised, which was long enough to make our exit through roughly 200 people and then some. ~KP
Lighting Sparklers
Sometimes couples opt for cute matchbooks to pair with sparklers, but we want to encourage you to keep the matchbook favors separate from your sparklers. Sparklers should be lit from wind-resistant, torch-style lighters. The next best thing is a long-stem grill lighter. Once you start getting some sparklers lit, you should use the sparklers to light other sparklers. A sparkler will light up almost immediately from another sparkler.
Make sure your guests understand this so they don't pull out lighters or have any confusion during the sparkler exit.
Also, make sure you hand out your sparklers before lighting them and only light one at a time. Don't try to save time by lighting a handful all at once — this is very unsafe!
Disposing Sparklers
As with anything involving fire, you want to have a safe way to dispose of the sparklers when you are finished using them. Since the sparklers will still be warm you don't want to toss them in trashcans. You can place the discarded sparklers in buckets of sand for them to cool before throwing them away.
Have buckets positioned in an easy-to-see place at the exit.
Scheduling Sparklers
Scheduling your sparklers is an extremely important part in your wedding itinerary. You want it to be at a time when you have plenty of guests on hand, but you definitely do not want to "exit" your party too early. Your wedding planner will be your best resource in determining what time you schedule the send-off.
Let your guests know when you plan to do sparklers so that everyone who wants to be there stays for it. Your photographer will also need to plan for that time and can help you decide the best place to stage the send-off. You want a large, open space clear of low ceilings or brush. Hire a driver to pick you up in your chosen getaway car.
Customer testimonial: Great sparkler for the price. Our wedding guests loved them and joked the sparklers must've come from Texas due to their size and the fact they seemed to burn forever. Great for that wedding sparkler exit! ~DS
Photographing Sparklers
You want to be prepared and informed to capture a sparkler exit, or any sparkler photo. There are some technicalities involved that are better handled by a seasoned photographer. That said, if your first time shooting sparklers is at a customer's wedding you should have a practice round before the big day. For answers to the more technical questions including information on lighting and ISO check out our post How to Photograph a Wedding Sparkler Exit.
When it comes to staging sparkler photos, the possibilities are endless! Traditionally, guests form a sort of tunnel for the bride and groom to run through. These photos are fun because you get to see all the people who stayed to the end of the wedding.
Customer testimonial: These were absolutely everything we wanted for a Super Sparkly send-off for my daughter's wedding!~Angela
Capturing a kiss at the end of the tunnel also makes for some of the best photos. You can also combine a sparkler exit with confetti cannons for the ultimate display of fun.
You can also do close-ups of just the bride and groom with their sparklers. These make for a more intimate photo and are easier to capture since you can control the light.
Get the wedding party in for a close up!  This is a fun way to get all your friends into one unique shot.
Customer Testimonial: Everyone at my New Year's Eve party loved these sparklers. I was worried that I would be left with too many of them, but people wanted to light them over and over. What a great addition to any celebration. ~Jane
Wedding sparklers are a beautiful way to finish off your big day. We hope this guide helps you understand how best to use them and gives you some ideas for your photos. If you use our sparklers at your wedding we would love to see the photos! Feel free to tag us on Facebook or Instagram and use #superiorcelebrations for a chance to be featured.