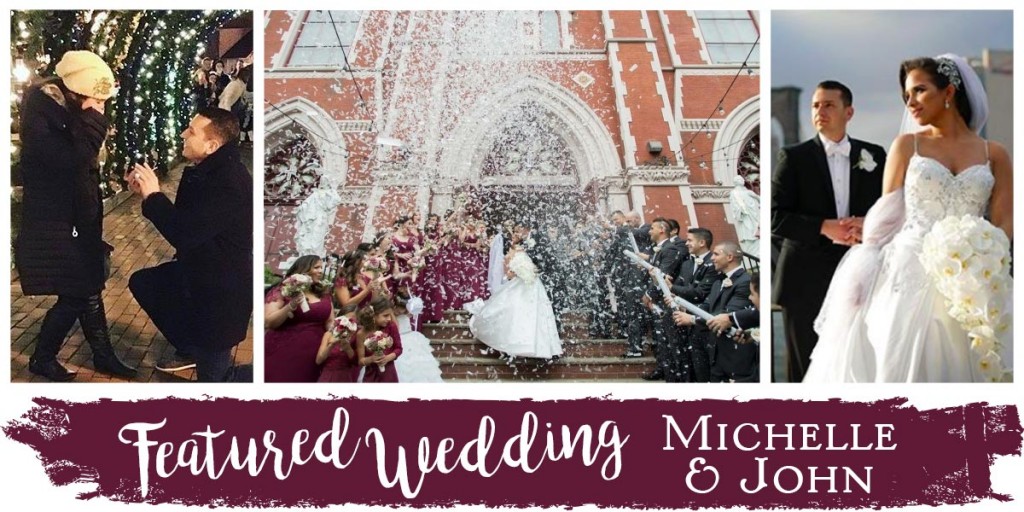 It's always exciting when we get to feature a customer's story on our blog. Our products allow us to be a part of so many beautiful days and gorgeous photographs, but it's a real treat when we get to hear the full scoop. Today we want to share a sweet love story, and beautiful wedding details from our customers Michelle and John. They tied the knot on October 14, 2017 and used our Wedding Confetti Cannons for their church exit. We asked Michelle a few questions and are excited to share her story with you all. There is no doubt you'll gain some inspiration, ideas, and have a few "awwww" moments!
Featured Customers: Michelle and John
How They Met
John and I met June 2007 at a friend's sweet sixteen party. He was the dancer working with the DJ company and I was a guest at the party. As soon as we saw each other something instantly clicked. Being a shy 16 year old girl I just glanced over from time to time hoping he would come say hello. After a few hours of locking eyes he came over and asked me for the last dance. After that night we became the greatest friends.
A month later, on the Fourth of July, he kissed me for the first time while watching Win A Date With Tad Hamilton. The rest is history. Our love story continued for the next 8 years, and I could sit here and write about it for hours. We grew up together, helped each other grow, and our love just became stronger. John and I have made beautiful memories, have picked each other up through the tough times and encouraged each other through every obstacle. He is my soulmate, my best friend, and I can't picture life without him.
The Proposal
On December 20, 2015 John picked me up from a Christmas brunch to meet up with his family in Peddlers Village, PA for some shopping and dinner. A few weeks before John had mentioned it to me nonchalantly, and I was clueless as to what was really being planned. After a few hours of shopping, admiring the lights, and walking around we came across a beautiful tunnel that was lit up gorgeously. His sister turned to us how she normally would and said "Do you guys want a pic?"
After our picture was taken I began to walk away when John grabbed my hand, turned to me and said "You know I love you right?" I was still clueless when he grabbed my face and explained how much I mean to him. It was then I realized what was happening, but I was in complete shock and so surprised! I began to cry, he then got down on one knee and said, "Will you marry me?" Unable to even speak I screamed yes! Just when I thought the moment couldn't get any better or more perfect my family came running through the other side of the tunnel. We had his family on one side, my family on the other and the song "A Moment Like This" playing in the background. It was truly a fairy tale and the most magical night of my life.
The Wedding
We had our wedding at Sacred Hearts St. Stephens in Downtown Brooklyn. This church is very special to me because it is where my parents got married, and as a little girl I always thought it was so beautiful.
There were so many amazing moments in our day, but my absolute favorite was when John and I exchanged our vows.
The confetti canons were shot right after we walked out of church. It felt magical and was the perfect moment right after we officially became husband and wife.
We loved our confetti and got so many beautiful pictures thanks to your company!
We had the reception at Westmount Country Club in New Jersey. While we were shopping around for venues for the reception, it simply felt right at Westmount. It has a modern and classic feel for the traditional wedding we have always wanted.
Our first dance was "Never Stop" by SafetySuit and I danced to "Daddy Dance With Me" by Krystal Keith with my father. Those two dances were beyond special and everything I dreamed they would be.
We had a big bridal party and it was a blast! I wouldn't have had it any other way.
Most of the members were family and friends that turned into family. The little children are our nieces and nephews, and the junior groomsman is John's adorable cousin. The two junior bridesmaids are my brother and sister's daughters, they were ecstatic to be such an important part of our big day.
My beautiful flower girl is my brother's daughter Alessandra. She was so proud that day and did an amazing job.
Vendor Details:
My vendors were amazing and wonderful to work with. My dress was designed by Pnina Tornai. It was an absolute dream to wear one of her dresses.
My makeup was done by Lauren D'Amelio and hair was by Senada K.
Our flowers were done by Pedastals. They were absolutely stunning.
 Lastly, our cake was done by Palermo Bakery.
A huge thank you to Michelle for sharing her lovely story and the details on her wedding. We are so thankful for customer feedback, and for sharing with us on Instagram. We found Michelle's photos just by following the #superiorcelebrations. Please be sure to tag us so that we can feature your story, too! If you are in the New York/New Jersey area be sure to check out her vendors, and give them a follow on social media. 2017 was a spectacular year for weddings, and we are excited to see what 2018 brings!