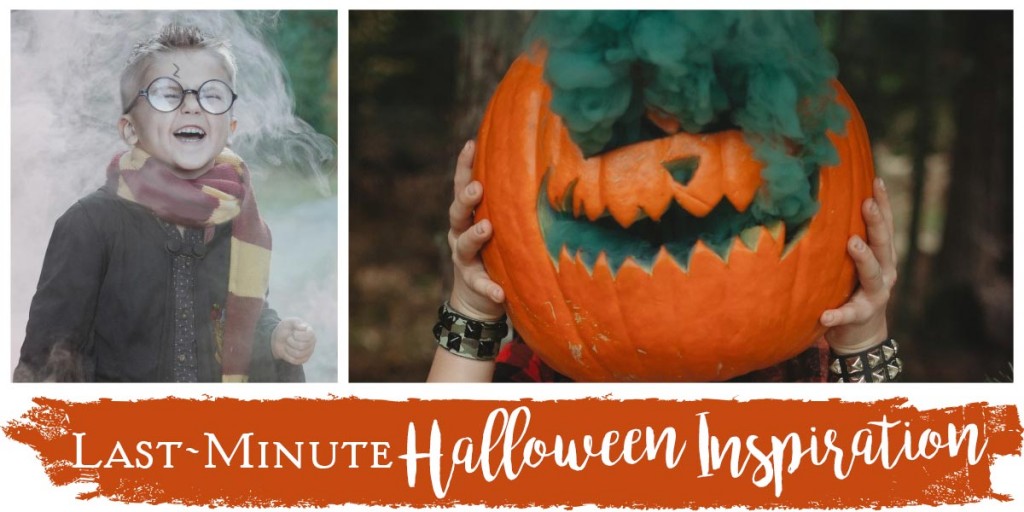 "Double, double, toil and trouble…something wicked this way comes!" Halloween is just a few short days away and with it will come a night of tricks, treats, and enough candy to give your dentist nightmares. Have you found your costume yet? Carved your pumpkin? We hope this post inspires you to finalize your Halloween plans. We also have a few sales going on that will only make your Halloween better.
First of all, we have our BOGO Glow Sale for all glow items. Glow products are great for Halloween. You can use them to keep track of your brood, light a pumpkin, and even accent your haunted house. Check out this Harry Potter themed haunted house that used quite a few glow products and LED ice cubes. We also have our Diwali Sale where you can get your sparklers discounted at 15% off for any number of celebrations. And last but not least, our Gender Reveal cannons are on sale for just $9.95. If you were on the fence about using these for your event, run, do not walk to our shop and snag them while they are reduced!
We just put together a really fun collaboration with one of our favorite shops, Hello Boho Babe. This shop features amazing kids fashion that is unique, adorable, and totally on trend. From rugged jeans, to jaunty beanies, to fabulous fur vests, this store has everything you need to turn your little one into an iconic fashionista. Nicole, the owner, has a vivid imagination and her creativity knows no limits. She put together some amazing costumes that are sure to inspire. Using every day items she makes the most fashionable piggy, bat, ghost, and unicorn you ever saw. If you haven't grabbed a costume yet, check out her Instagram and take note: your kid will be the most chic kid on the block. And isn't that what we all want?
Nicole used some of our products in recent photo shoots and we couldn't be more happy with the result! In her hands, sparklers become magical wands, and smoke bombs transform a photo into a ghostly and artsy scene. With holiday photos coming up, you're sure to want to follow her lead and use smoke bombs, confetti cannons, and even sparklers to accent your holiday greeting cards. P.S. Get them now while they are on sale.
Nicole's take on a little piggy is the cutest ever. A tutu, face mask, and headband ears accent the ensemble. The fur vest just makes it look like something from fashion week. Don't you think this is the cutest little piggy you ever did see? She used our pink color smoke to achieve this look.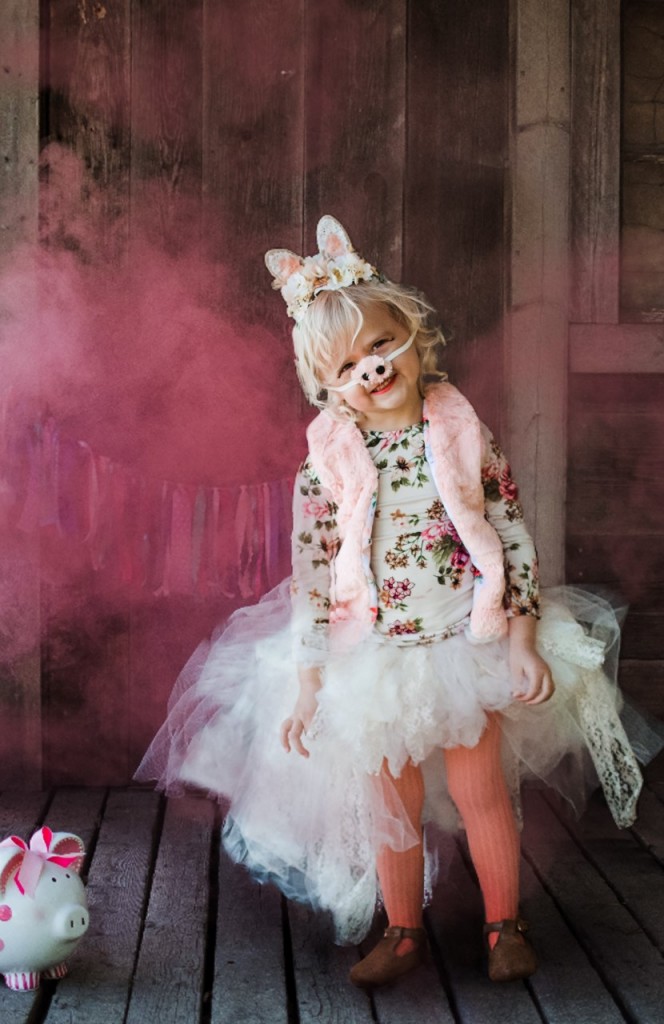 Harry Potter is always a costume that's in high demand. The other thing that's in high demand is a photo to do the costume justice. Harry Potter and the Deathly Hallows just doesn't have the right ring to it unless it's shrouded in ghostly smoke, right?
For this shot, she used orange and white and her Harry Potter looks positively delighted to be cloaked in ghoulish smoke. We guarantee it, if you take any photo with this smoke, your Halloween costumes will look 100% on point.
Have you carved a pumpkin yet? The jury's out and color smoke is waaaaaaay cooler than a simple tea lights most folks stick inside of them. Give your neighbors something to talk about and stick a smoke bomb inside. Save the boring lights for the dark ages and move on already.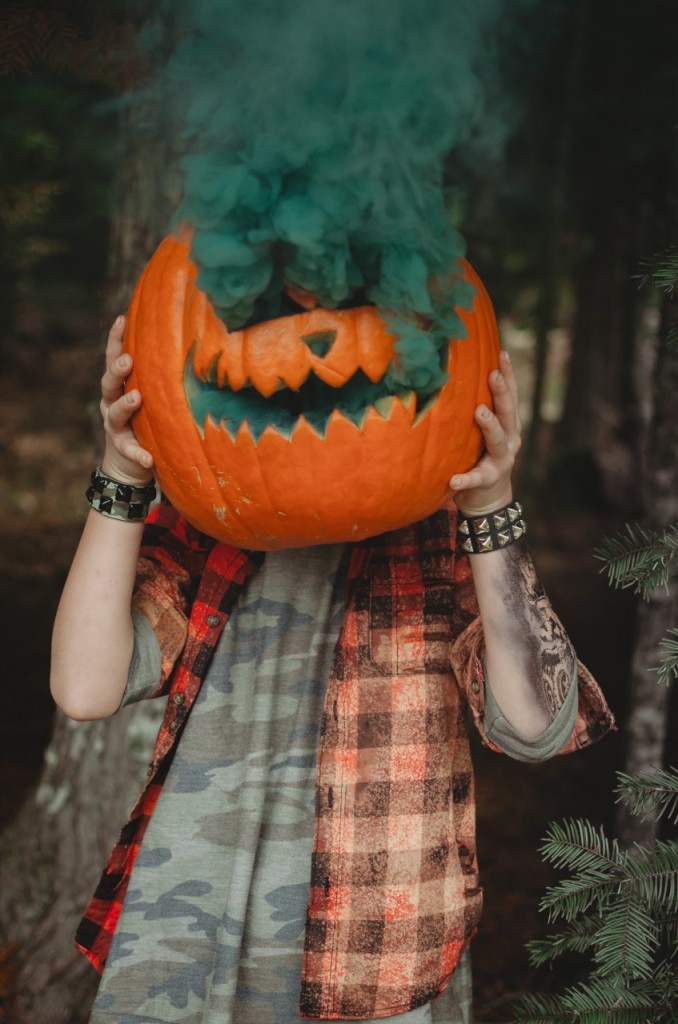 The color smoke is richly pigmented, and the photographic effect is quite dramatic. Your kids (and their friends) will be talking about that smoking pumpkin for days so take our advice and go for the coolest option on the market.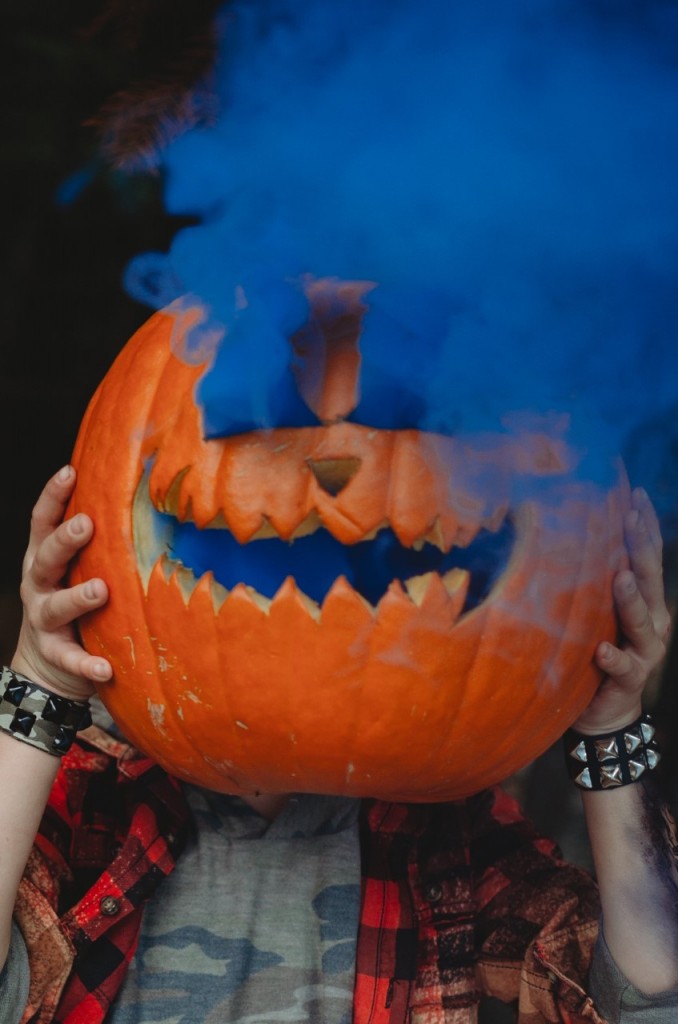 Check out that blue! If you're deliberating, Halloween is a great night to host your gender reveal party! What better way to announce your baby's gender than through your own jack-o-lantern?
Finally, it wouldn't be fair if we only showcased Nicole's Halloween designs. Her clothes are designed for everyday wear. That includes playtime, eating, and moving around. She has the cutest clothes on the market and if you don't take advantage…well, your kids will later question your choices.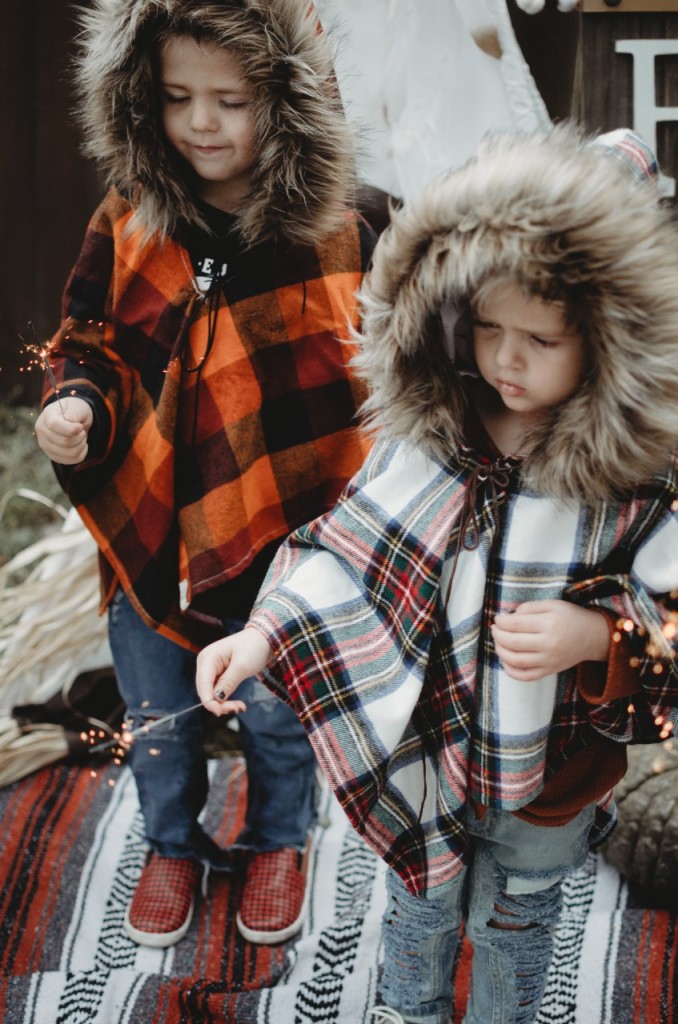 Yes, ponchos are perfect for kids. They have the advantage of using their arms, while still staying warm. And they look adorable to boot. It was so fun letting Nicole use her creative genius and showcase our products in a way we haven't seen before. We truly hope for more dramatic and creative shots to take place as a result. If you need a gift for a friend, a relative, or just want to cloak your own kid in adorable clothing please take a look at her shop and let her style your child. She'll do a darn good job.
We had so much fun working with Nicole and her brand. If you would please give her a follow and a like on Facebook we would be so happy. Also, if you want to collaborate please reach out to hillary@superiorcelebrations.com and we'll give your business the props it needs to take it to the next level!