We made it to March and while spring isn't quite yet here, it is finally on the horizon. That cold stretch between New Year's and Valentine's Day has everyone dreaming of sunshine, warmth, and days spent outdoors. However, the dawning of spring is not just about a change in weather or season. Across the globe, spring is tied to a deeper cultural and religious idea of rebirth and renewal. And while there are many ways to celebrate the transformation of winter into spring, the Hindu celebration of Holi beautifully captures the essence of color, joy, and rebirth that is spring.
Holi is an annual festival that is celebrated on the day after the full moon in the Hindu month of Phalguna (early March). The perfect end to winter, Holi rejoices in all the color that comes with the spring season.
A celebration of love, new life, and brotherhood, Holi is kicked off by the lighting of a giant bonfire Holika Dahan, or Chhoti Holi. In India, the caste system is still adhered to by stringent standards. However, during Holi, social boundaries are replaced by a merry camaraderie where people of all classes splash each other with color powder. You can read all about color powder in our post Color Powder: Inspired by Holi.
Today we want to introduce you to a few ways to celebrate Holi at home. It is both enriching and fun to learn more about cultural celebrations around the world. What better way to get your kids excited about learning than to do with it with a fun holiday?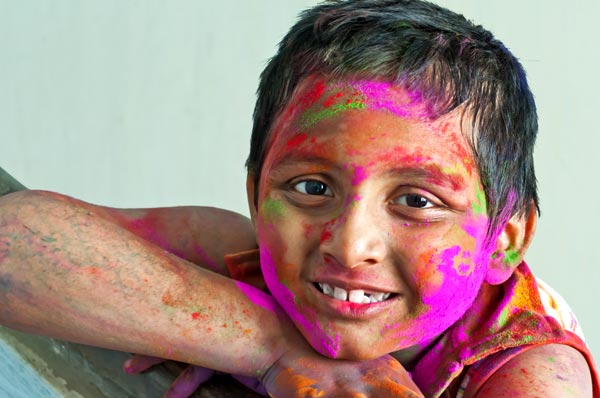 Holi Activities for Kids
Reading
Perhaps the first thing to do when introducing your children to a new concept or idea is to read to them. Indian mythology is full of exciting characters and stories, but if you didn't grow up with a Hindu background it can be overwhelming to try and explain to children. The Amma Tell Me series by Bhakti Mathur introduces children to important Indian celebrations in an engaging and easy-to-grasp way. Her series actually started with the book Amma, Tell Me About Holi and the success of this beautifully illustrated piece led to the publication of the rest of the series. Definitely check out her website, and grab Amma, Tell Me About Holi today.
Art
Holi is known as the "festival of colors," and the traditional colors of Holi are red, blue, yellow, and green. Each color represents a different aspect you can talk to your children about. Red is symbolic for love and fertility, and blue represents Krishnu, god of compassion and love. Yellow is the color of tumeric, a spice that is very important in Hindu ritual representing prosperity. Green brings us round to spring as it characterizes new beginnings.
During Holi celebrations, people are bedecked in color powder. We're talking head-to-toe covered in color. If you're not able to attend a festival, or are cringing at the thought of the clean-up you can introduce your children to the tradition through art.
This art project by Katie Morris Art has kids make a self-portrait and then use powdered tempura to splash them with the colors from Holi. The project is a little messy, but so fun for kids who haven't been exposed to Holi before. You can do this at home and create some great pieces they will love.
Eating
Like every great celebration, Holi is known for sharing delicious meals with friends and family. For a great list on what is typically consumed at Holi, check out this post for 23 dishes you must try during Holi. It will help if you want to order take-out and aren't sure what to get. Or if you're really ambitious, you can try to cook some of them!
If you enjoy baking, one recipe to try out is Gujiya, an Indian sweet pastry. This dish is both fried and baked, and has a creamy filling of ricotta and nuts. You'll get to bust out that member of your spice cabinet that for most of us isn't used too often–cardamom.
Another delicious recipe to try out is Strawberry Phirni. Phirni is a traditional Indian rice pudding that is both sweet and creamy. This is definitely a kid-friendly dish, and you can have your children help you make it. What kid doesn't love helping in the kitchen especially when sweets are involved?
We hope this inspires you to introduce this beautiful holiday to your children and learn a few things along the way. Spring is the season of new things, and Holi is the perfect way to welcome it. If you are celebrating Holi at home or in your community we would love to see your festivities. Make sure you tag us on Facebook or Instagram with #superiorcelebrations.