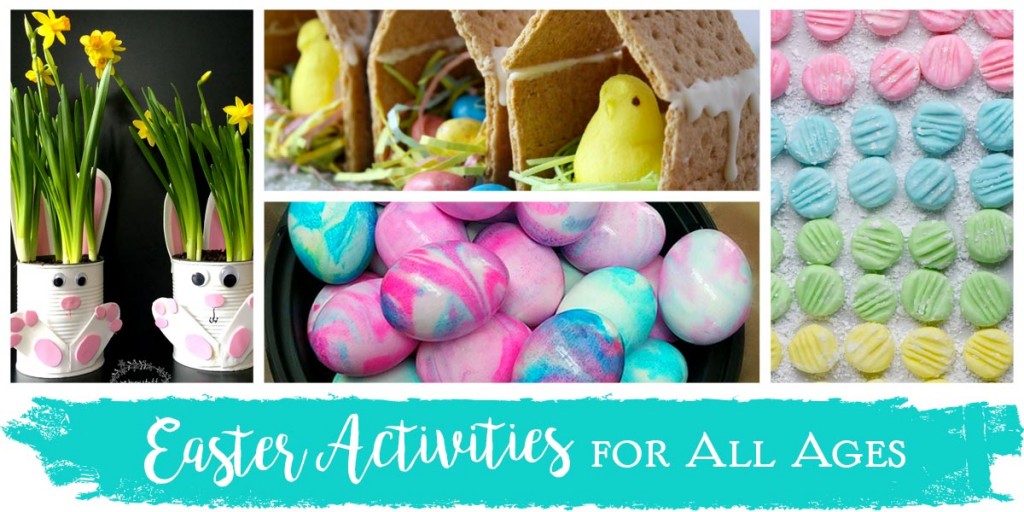 Easter Sunday is this weekend, and families are gearing up for spring break and Easter celebrations. Spring dresses, Easter baskets, egg hunts, and family feasts are the first things that come to mind, but there are plenty of other activities to keep you busy Easter week. We searched around and found a few projects and recipes that are kid-friendly and oh-so-festive. These ideas are perfect for incorporating into playdates, family time, and Easter preparations.
Easter Activities
Garden Crafts
We welcomed the first day of spring last week, and you cannot think of spring without images of tulips and daffodils popping into your mind. Give your kids the chance to try a little fool-proof gardening with these Bunny Planters. We like this craft because it doesn't require too many materials (you get to repurpose cans), and it showcases the cheeriest spring flower in kid-friendly way.
Another fun "gardening" activity are these pretty cactus desert eggs. Like succulents, cacti are the one plant group you just can't mess up. They are perfect for those of us who lack a green thumb [wink]. Not to mention, this little setup with an empty eggshell makes for delicate and artistic work. This is a good project to do with your older kids because it's a little more detail oriented.
Easter Eggs
When it comes to hunting eggs, kids are pretty united in claiming plastic ones are best. Your average hardboiled egg just doesn't hold up to candy and trinket-filled plastic ones. However, there is something special and nostalgic about dyeing eggs. Even if they only end up in a potato salad, your kids will definitely want to participate in the dyeing ritual. You can go the old school route for dyeing, or switch it up with this fun shaving cream project. Kids will love playing with the colors and textures and you'll get some swanky eggs as a result!
We typically think that Easter egg hunts are reserved for the little kids. But don't you remember being a 12-year-old and looking out at the hunt with a bit of longing? Most kids know how to operate a smart phone. In fact, your average 10-year-old understands the workings of an iPhone better than most adults. That's why this Easter egg hunt for big kids is so genius. It's a scavenger hunt engineered by QR codes. This post has all the printables and you just print, stuff the eggs, and hide them. Find a cool prize, and surprise your tweens with an egg hunt that has them feeling like a little kid again.
Peeps
When it comes to Easter candy there are two types of people: those who love Peeps and those who hate them. No matter which category you find yourself in, Peeps still provide plenty of fun and entertainment for kids. If you've got some little scientists in the house, we recommend this fun experiment to see how Peeps hold up in different liquids.
We know you'll have some Peeps left over so here's what you do next: make a Peep home! Who says gingerbread houses are only for Christmas? This little graham cracker house is adorable and will make for some fun decor for Easter.
If your kids are like mine, they love to make holiday favors for their friends. They enjoy playing a little ding-dong-ditch and leaving little treats for their friends and then laughing at their sneakiness. They will have some time on their hands during Easter break, so why not channel some energy into gift-giving? These Bunny Boxes are adorable and will take up some time for them to make. You can grab a few items for the dollar store or dollar bins at Target and then gift them to a few special friends.
Easter Treats
Most of us had our first taste of Puppy Chow (also known as Muddy Buddies) in college when it was the economical treat that fed everyone in  your dorm. Well, it's still just as delicious (and addictive). It's also one of those recipes that can be adapted for every holiday. Simple and foolproof, this is a recipe your kids can make by themselves with just a little supervision. It's actually the perfect thing to throw into their bunny boxes!
Remember those pastel dinner mints? They were all soft colors, melt-in-your-mouth buttery goodness, with a hint of mint. Your grandma most likely had them in a fancy candy dish that was always within reach. While dinner mints may (sadly) be a thing of the past, this fantastic recipe channels that nostalgia in a way that makes for a fabulous Easter treat. It's also simple enough that your kids can help you make it, without the stress of a big mess in the kitchen.
We hope these ideas give you a bit of inspiration for Easter week. If you do try out any of our suggestions we would love to see it! Share with us on Facebook or Instagram using #superiorcelebrations.