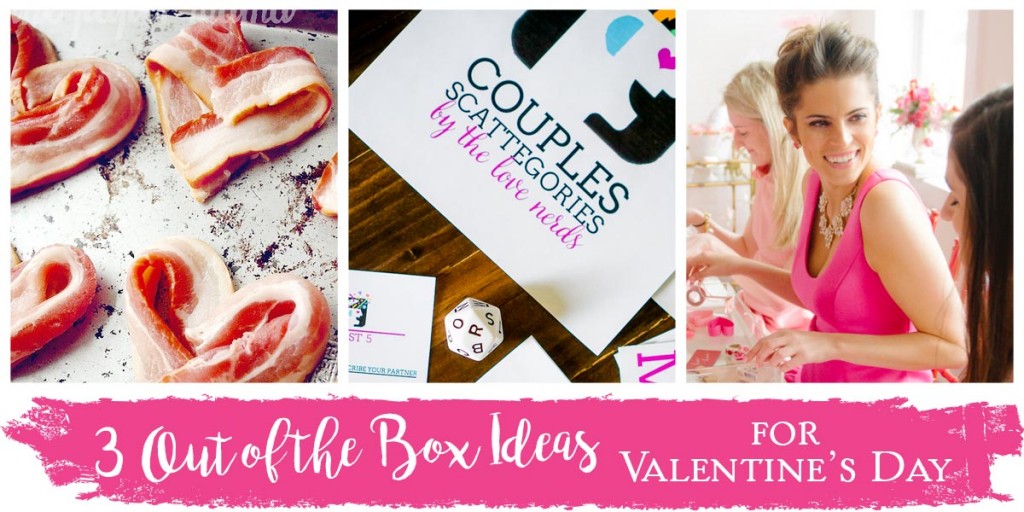 Valentine's Day is next week. We've all been there, done that, and if you're scratching your head as to how to make this Valentine's Day any different, we have some ideas for you. In the past, we came up with a fun "Valentine, You Make Me Glow"project, 4 Creative Ways to Celebrate Valentine's Day, and even a Confetti-Inspired Valentine's Day. Today, we have some "out-of-the-box" ideas to make this February 14th truly unforgettable.
3 Out-of-the-Box Ideas for Valentine's Day 2018
Valentine's Day Treats
Forget chocolate, SweetHearts candy, and all things sugary. There are folks out there with zero inclination for a sweet tooth. These Valentine's Day treats are for them.
Remember when you were a kid and your mom would cut your sandwich with cookie cutters, or make you a Mickey Mouse pancake? It was always the most exciting thing to eat, right? Turns out, adults also get a kick out of shaped foods. And while bacon is perfectly beautiful (and delicious) in its natural form, heart-shaped bacon is even better. Surprise your Valentine with these Bacon Hearts. Guaranteed to score some points!
Like bacon, pizza is a food that it is totally perfect in it's usual form. However, a heart-shaped pizza provides all the photo-ops you could think of. Gentlemen, if a proposal is in the books for V-Day, do not underestimate the power of pepperoni in off-setting that diamond. Not to mention, if you make the pizza yourself, you get in on the "thoughtful gesture" as well. I'm the sort who would take pizza over flowers any day!
Valentine's Day Dates
It can be really challenging to actually go out on Valentine's Day. Most of us put off making a reservation, then find that our favorite restaurant is completely booked on the 14th. To avoid waiting hours to eat and maybe save a little on cost, we recommend thinking outside the box on your date night restaurant venues.
Haven't you heard? Staying in is the new going out. With a little extra thought and effort, you can have the perfect date night right at home. Maybe your perfect date night is ordering take-out and binge-watching Netflix together. Maybe you love cooking together and want to try out a complicated new recipe. We're looking at you, Food Network gurus. These are both fun options, but if you're a couple who loves games, we really like this Couples Scattegories created by the Love Nerds. Even if you've been together for decades, you might just learn something new and have fun swapping memories and laughs.
Another out-of-the-box date idea is to upgrade your favorite fast-food restaurant. Yep, you heard that right. A few years ago, Buzzfeed ran a story about the couple who had a romantic date night at Taco Bell. It's one of those things where you think it's so ridiculous that it's actually brilliant. Taco Bell is a franchise that aims to please its fans and they accommodated the love birds with their own "fancy" menu and place settings. You could probably try this out at any of your favorite fast food chains, and you might just make Buzzfeed! Fun side note: did you know Taco Bell does WEDDINGS? Yes, we're serious. Check out this fun wedding trend.
The point is, it doesn't have to be a five-star restaurant to make a wonderful Valentine's Day memory. Use the resources you have, think outside the box, and focus on building a memory that will make you smile in years to come.
Galentine's Day
Perhaps the most original out-of-the-box way to celebrate Valentine's Day is to celebrate another holiday altogether. Enter Galentine's Day. Galentine's Day focuses on friendship rather than romantic love. Sorry men, this holiday is definitely geared towards women (as if Valentine's Day isn't). Commemorated by the adored Leslie Knope from the hilarious TV show "Parks and Recreation," Galentines Day typically occurs on the 13th of February and is a time for "Ladies celebrating ladies. It's like Lilith Fair, minus the angst. Plus frittatas." It's a time to gather your friends and have some fun without any pressure to "have a date night."
Galentine's Day provides the perfect excuse to wear red and pink, eat lots of chocolate, and get all gushy for your girlfriends. If you haven't been invited to a Galentine's Day event–host one! Trust me, your friends will show up. Even if you have just three or four guests, the opportunity to pop a confetti cannon, light a heart sparkler, and make a memory is reason enough to celebrate a knockoff/GENIUS holiday.
Ultimately, Valentine's Day is a mid-winter break that makes life exciting and fun. Let's face it–January through April tends to be a strange lull in the year. Holidays are over, spring isn't yet here, and we need that reminder to celebrate and connect with our loved ones. We hope that these few unconventional ideas help you make your Valentine's Day unique and memorable. If you do have an "out-of-the-box" Valentine's Day, be sure to share it with us on social media! Tag us on Facebook or Instagram with #superiorcelebrations so that we can take a look.
Happy Valentine's Day!