And how to come up with a great one
It's no secret that social media changes how we approach different life events. Everything from birthdays, to holidays, to natural disasters, to new box-office hits can be documented by a hashtag, and the conversation is open to everyone. This is especially true when it comes to wedding hashtags.
Couples usually come up with a hashtag shortly after they become engaged and document the engagement, wedding planning, and actual wedding with their hashtag. Besides being a great organizational tool, hashtags also engage your friends, family, and guests who are unable to attend your wedding.
So how do you come up with an original hashtag?
Choosing the right hashtag is extremely important. You do not want to merge your hashtag with someone else's, and you also want to make it easy for friends to avoid spelling errors. The traditional approach to finding a hashtag is putting a spin on last names. There are a few wedding hashtag generators out there that can help you come up with an original one.
We like Shutterfly's Hashtag Generator which is free, and also has a search option to check Facebook, Twitter, and Instagram. WeddingMix also has a free hashtag generator that allows you to customize based off your style. Choose from "Classic," "Fun," and "Offbeat" to get the right vibe for your wedding. Finally, if you're hitting walls coming up with the perfect wedding hashtag, Mister Write offers personal services for crafting your hashtag. Note: this is also a great resource if you're looking for customized vows, speech writing, and even proposal ideas!
If you're a crafty wordsmith you can look to movie titles, song lyrics, band names, and don't be afraid to get punny with it. You want something that people will remember and that sets your wedding story apart.
You found a great hashtag, now what?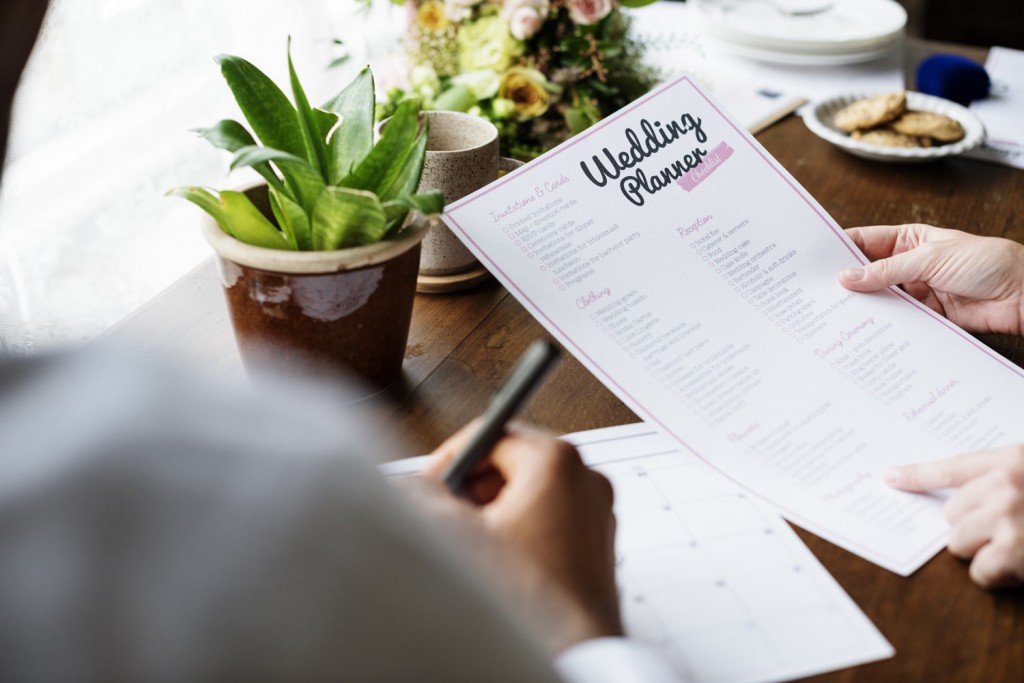 Now that the hard part is accomplished, it's time to put that hashtag to work! Think of your hashtag as a photo album for your wedding: what you ate for lunch on the day you went dress shopping is a fun detail to include, but not every delicious meal you share on Instagram belongs in that hashtag category. Share things like addressing invitations, attending bridal showers, and meeting with your planner. It will be fun for you to look back on all the planning and see the process that brings you to your big day.
Inform your guests and invite them to contribute.
The best part about having a wedding hashtag is getting to see your friends, family, and guests use it. After the big day, you can sit back and scroll through all the different perspectives captured at your wedding. You definitely don't want to miss out on all these photos, so make sure your guests know how to use the hashtag.
The best way to keep them informed is to have several reminders. Include the hashtag on your invitation–it can even just be on the RSVP card. Place strategic reminders out at your ceremony, on the wedding program, by the gifts, and on the reception tables. There are tons of cute props out there to help you do this creatively and aesthetically. We like these printables from Wishful Paperie.
Lastly, don't forget this hashtag!
Finally, chances are if you're reading this blog post you're planning on using our spectacular Wedding Confetti Cannons or Wedding Sparklers. We love seeing how our customers use our products and don't want to miss out on your big day. Make sure to tag us on Facebook or on Instagram @superiorcelebrations, and use #superiorcelebrations so we can see your gorgeous wedding!