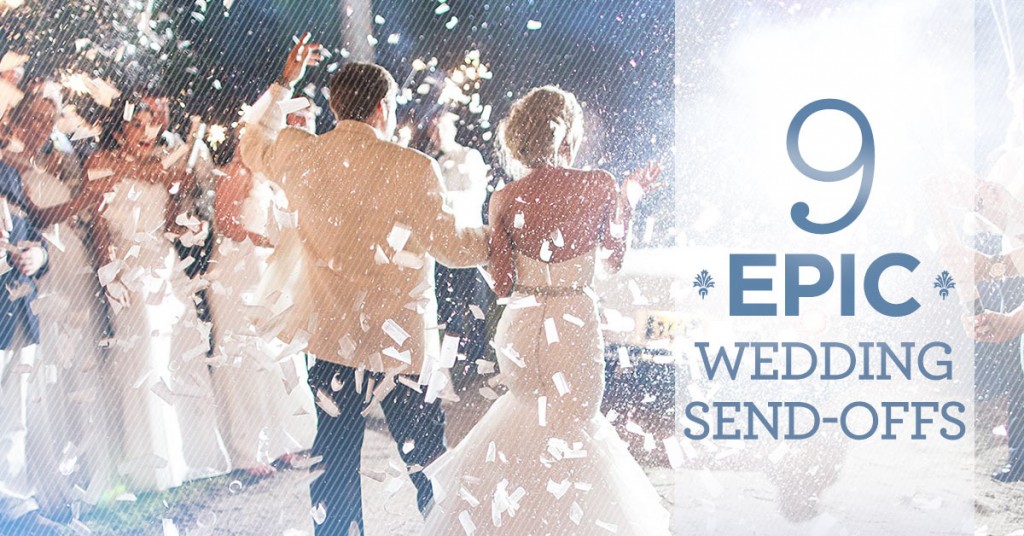 When you attend multiple weddings, you learn that the details are what set one wedding apart from another. We love wedding details because they're proof of personality, forethought, and meticulous planning. From start to finish, weddings are quite possibly the only major life event that gets to be fully planned.
For many brides, the wedding exit is every bit as important as their wedding entrance. Rooted in ancient Roman tradition, the "send-off" used to be a chance for guests to wish good fortune and fertility by throwing grains of rice or wheat at the newly married couple. Today, send-offs are accented by much more than rice, including flowers, ribbons, paper airplanes (ouch), and even bubbles.
We love being a part of your great wedding send-offs and have ample photos to show just how spectacular our wedding sparklers and confetti cannons look in this scene!
Here are 9 times Superior Celebrations made epic wedding send-offs:
1) That time everyone wore white.
How's this for a rice replacement? The wedding confetti almost looks like giant snowflakes here, and really compliments the white gowns of the wedding party.
2) That time a small country wedding had big heart.
Our Heart Sparklers are a fun and unique detail to provide for your guests. These look particularly sweet with this country wedding.
3) That time the bride and groom ran through a sparkler tunnel.
The 36″ Gold Sparklers burn for up to 3 minutes, giving guests plenty of time to let the wedding couple run through a tunnel! We particularly like how this groom feels the need to duck and run!
4) That time the groom felt like a total rockstar.
Your wedding day should be the party of a lifetime, and this groom looks like he's taking full advantage of it! You can see that the guests are having a pretty swell time, too.
5) That time the couple stopped for a legendary kiss.
That dress! The rich colors! The boy wielding his sparkler like Harry Potter's wand! This shot is all kinds of glorious with our 20″ Wedding Sparklers.
6) That time the bride said, "No, no kisses yet."
Magical, romantic, and playful, our sparklers provide the perfect backdrop to any scene you wish to create!
7) That time the guests wore glow crowns.
We love how this couple used both the 36″ sparklers AND glow necklaces for their wedding send-off! Doesn't this look like a fun party?
8) That time wedding confetti looked amazing in black and white.
It's already been decided that both the traditional white confetti, and the multi-colored confetti look glorious at send-offs. But how about seeing it in black and white? The dramatic lighting and contrast in this photo shows just how breathtaking the confetti can be.
9) That time they went all out and used everything.
There's a lot going on here, so we'll help you unpack this photo. First, the couple is using our 20″ Wedding Sparklers. Second, they chose the Mixed Metallic Streamers and Confetti Cannons instead of white. Gorgeous. Third, they're using those as the backdrop for an epic kiss.
So, which send-off is your favorite?