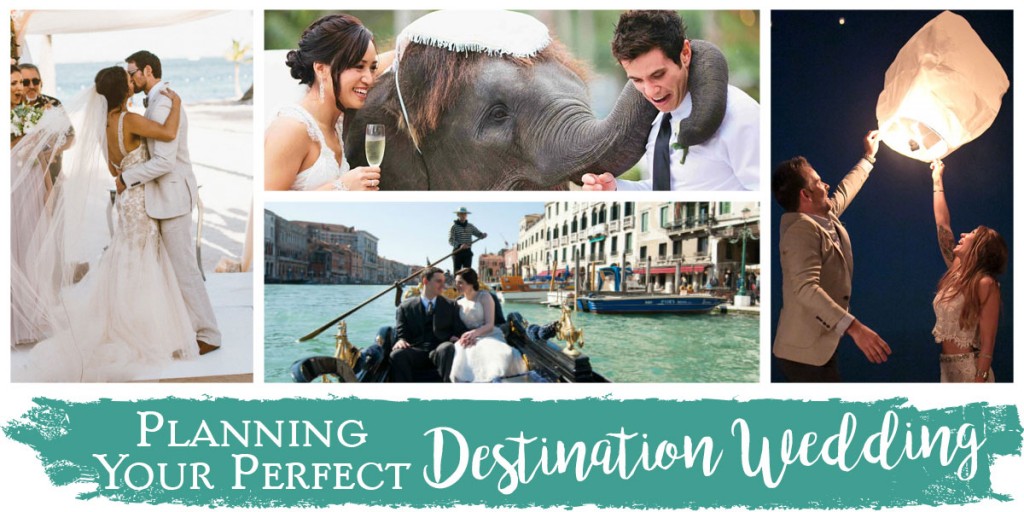 So you've decided to have a destination wedding. Congratulations! Not only are you going to tie the knot in the place of your dreams, but you're giving all of your guests a fantastic getaway to boot. The only thing standing between you and your paradise is the planning.
Orchestrating a destination wedding can be both daunting and overwhelming to the engaged couple. There are countless details to be arranged and many of them will not be settled until you arrive at the destination. However, there are some things you can do to relieve that stress and streamline your planning. Here are the fundamentals for planning your perfect destination wedding.
Planning Your Perfect Destination Wedding
Choose the destination.
The most obvious of your decisions about a destination wedding is, in fact, the destination. Where will you get married? Of course you will want to choose a place that is beautiful and meaningful to you and your fiance. One extremely important thing to consider when choosing a location is the weather.
Do you want to pledge your vows on the white sands of Jamaica? You'll definitely want to stay away during the rainy and unbearably hot seasons. Saying "I do" at the Piazza San Marco? Consider planning your wedding between September and November to avoid the crushing tourism of Venice in the summer.
Find your accommodations.
Choose a location that has the right accommodations for you and your guests. To keep things affordable for everyone, find a hotel that will give you a group discount and block off rooms that are close to one another. Another option is to rent a villa. Oliver's Travels has over 300 destination wedding villas all over Europe. Can you imagine the kind of house party you could have in a villa? So. Much. Fun.
You also want to make sure that your accommodations are close to restaurants or stores to purchase food. If you go the villa route, consider hiring a chef to cook several meals for guests to eat in the home. You are not responsible for feeding your guests throughout their entire stay, but you certainly want to ensure no one is ever hungry.
Plan some activities. 
For your guests, the biggest perk of a destination wedding is the trip they can make out of your event. Find a place that has various activities for them to choose from. You don't have dictate everything they do, but coming up with a fun itinerary will be appreciated. After all, you chose the destination because you love it–now let your guests fall in love with the place too.
If you are having a few children in attendance it will be important to make sure there are a few activities for them as well. You also will probably want a babysitter or two. Event planner Sandy Malone of Sandy Malone Weddings and Events suggests hiring babysitters for any activity that involves swimming or takes place near water. She also recommends screening your hotel or villa for any potential dangers like "modern villas with no railings." See her article 10 Ways to Have a Successful Destination Wedding That Includes Children for more ideas and information.
Pick only experts.
 Your greatest asset to your wedding–besides an abundance of love, of course–is a seasoned wedding planner. Even better, if you can find a local wedding planner who specializes in destination weddings you can consider yourself winning.
A local wedding planner will have the best information to present to you, and they will know their way around local vendors. If you don't know where to start when looking for your wedding planner, Weddings Abroad has a contact form that will give you access to the very best planners in your destination.
The other expert you will need to choose is a photographer. Remember, your photographs are your greatest assets after the wedding. While you should find a local wedding planner, your photographer is someone you can bring with you. Most wedding photographers jump at the chance to shoot a destination wedding. After all, there aren't many opportunities to capture a bride and groom with a baby elephant, right?
Stay in the know.
Because you will likely not have the face-to-face talk with most of your wedding vendors, the best thing you can do is stay on top of communication. Emails, phone calls, and even some Skype calls will ensure that everyone is on the same page. Your planner will obviously coordinate with the vendors, but you and your vendors should get to know each other and definitely have a relationship before the big day.
Plan your packing.
You'll likely be bringing waaaaay more with you for your destination wedding than you would for a normal trip. Familiarize yourself with your airline's rules about luggage and what the extra fees are. If you booked an airline that allows a free bag, consider sending some things along with your guests. The one thing you absolutely MUST bring with you on the plane is your wedding gown. Do not trust it in your suitcase. Even if it means you'll have to fold it up, you can get it steamed later.
Overwhelmed about what to bring? Destination Wedding Details has a great checklist for what you ought to bring with you.
Know the laws.
Getting married in a foreign country comes with quite the hoopla in the legal department. Most countries will require passports, birth certificates, and a proof of residency as a minimum. Some countries, like France, require that the couple reside in the country for a certain period of time before they will legally marry. There are also laws about who is able to perform the the wedding in order for it to be legally binding. A good starting place to learn about the legal technicalities of destination weddings is FindLaw.com.
If the idea of boning up on marriage laws isn't quite your forte, you can simplify the entire process in one sweep: obtain a marriage license in the U.S. and have a "symbolic" ceremony abroad.  You can read up on the difference between a civil and symbolic wedding right here.
Another legal aspect to consider is what you bring with you. There are a handful of items that absolutely will not make it through customs. Case in point: wedding sparklers. If you were wanting that sparkler exit, consider opting for sky lanterns instead.
Destination weddings make for some of the most beautiful and memorable weddings for everyone. It should be joyous and exciting, with minimal stress. We hope you learned a few helpful things along with us. Please share your destination with us by tagging us on Facebook or Instagram!