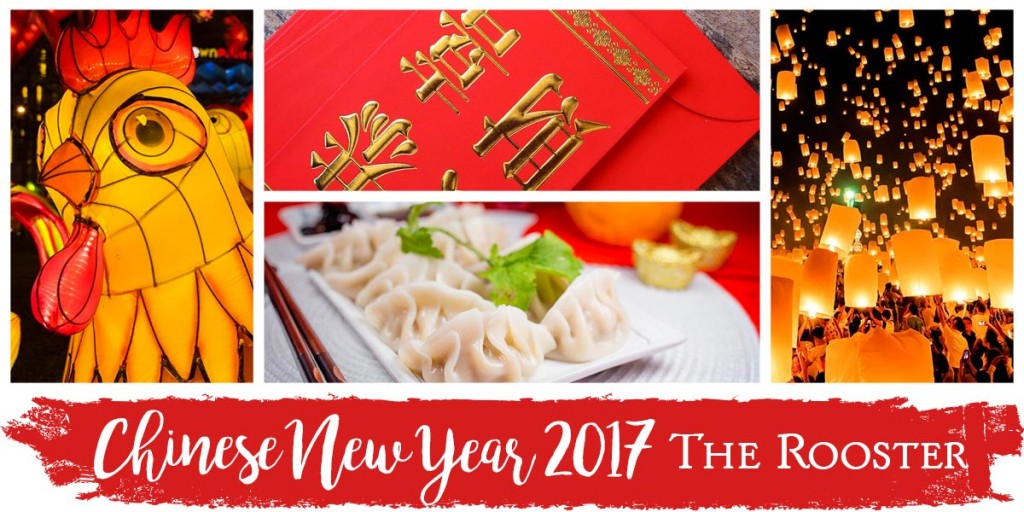 January is almost over and for most of us the "new year, new me" resolutions are starting to wear off. Yep, we accept that 2017 is in full swing. However, if you weren't quite ready for the new year to start on January 1st you're in luck! The Chinese New Year begins January 28th and according to the Chinese zodiac, 2017 is The Year of the Rooster.
Wait, what?
You might be wondering a few things:
What is the Chinese zodiac?
Why a rooster??
How do we celebrate?
First things first, you're going to have to bear the brunt of the research and learn about the Chinese zodiac on your own. I will tell you that the Chinese zodiac, or Sheng Xiao, is based on a 12 year-cycle with different animals assigned to each year. I promise, it's every bit as fun and interesting as you might think. Do you like learning about your specific personality type? Enjoy sorting friends and family into categories according to their temperaments and dispositions? The Chinese zodiac is perfect for you!
Unless you find yourself assigned to the Year of the Rat…which, I did. You will most likely love your Chinese horoscope.  Go ahead. Google it. We'll wait here.
This brings us to our next question: Why a rooster? 
Well, the Sheng Xiao is not to be messed with, and mathematically speaking, this is the animal for 2017. You might not be a huge fan of roosters. I know I'm not. When you're nine-years-old and find yourself locked in a chicken coop with an angry rooster,  you don't ever find it in your heart to "like" them. Especially when said rooster attacks you.
*cough*
Moving on…Childhood rooster trauma aside, the Year of the Rooster is something you just have to get on board with!
The Chinese New Year: 6 Things You Should Know
1. Good Luck
The Year of the Rooster is a great year to come into the world.
Rooster babies are trustworthy, punctual, and extremely popular. Yes, this is a great time to have your firstborn child. For reference, wanna know another rooster baby? Beyonce. Yah. Short of marrying Prince Harry, this year is the best for roosters.
2. Clean Up
You really should clean your house. Yes, cleaning house is extremely important when it comes to celebrating the Chinese New Year. As we learned with Diwali, cleaning the home ushers in good fortune and prepares a fresh canvas for the new year. You absolutely do NOT want to be caught sweeping your house on New Year's Day, as this would be a sign of "sweeping away" the new year's "good fortune."
3. Give!
Giving is part of receiving. One of the most important traditions in celebrating the Chinese New Year is the gifting of red envelopes. Red envelopes contain money and are bestowed upon the younger generation. While the gift of money is exciting, the red envelope is really the most important feature of this tradition. Why?
For one thing, the money that is placed in the red envelope will be new, crisp, and clean. This signifies newness and fortune. In addition, the red envelope is received with both hands. It is accepted as a complete gift and offering, not a favor. It must be both received and valued as fortune.
4. Eat Right!
Our American holidays almost exclusively revolve around the food we serve. It should be no surprise that Chinese cuisine is of paramount importance in observing the new year.  While there is a whole menu of foods to be served during new year celebrations, two of the most important courses are fish and dumplings.
In Chinese, "fish" or "yu" is pronounced in the same way as Chinese word for "abundance." Serving a whole fish is the perfect way to communicate a wish for abundance and prosperity for the whole family.
Beyond fish, there is an entire menu full of unique and delicious dishes that are typical of Chinese New Year celebrations; however, beyond fish, fortune cookies, and noodles reigns the supreme dumpling. Dumplings are, by far, the most important dish served at a Chinese New Year celebration.
Due to their unique shape and size, dumplings are the perfect embodiment of wealth and fortune. They are prepared and eaten on New Year's Eve, and "Legend has it that the more dumplings you eat during the New Year celebration, the more money you can make in the upcoming cycle" (source).
I could certainly eat dumplings like my wealth depended on it, how about you?
5. Celebrate and Sparkle!
Like our New Year's Eve, midnight is the magic moment for lights, noise, and chaos. One of the best things about celebrating the Chinese New Year is shooting off confetti cannons and lighting some sparklers!
Our Red confetti cannons produce a gorgeous stream of metallic confetti and shoot up to 15 feet! They are perfect for parades, parties, and even photo booth fun. You can blast these off at midnight for an exciting New Year's welcome.
Fireworks and firecrackers play a very important role of welcoming the new year.  However, many towns and cities do not allow firecrackers, so our sparklers make for a fun alternative and photograph beautifully!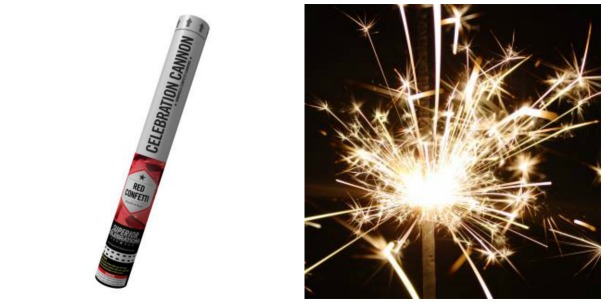 If you are really paying attention to the lunar calendar you'll know that the new year celebration isn't over at midnight. The traditional holiday period lasts until the 15th day of the first lunar month. Yuan-Xiao, the Lantern Festival, is the final celebration of the Chinese New Year. As you can imagine, Yuan-Xiao is observed by lighting up the night with sky lanterns. You can celebrate Yuan-Xiao with our gorgeous, biodegradable red sky lanterns and white sky lanterns.
6. Dress Up!
If you have any traditional Chinese garb, now is the time to flaunt it!
If you come up short on an heirloom wardrobe you can more than make up for it with red apparel. Gold is also considered to be lucky. Why dress in red and gold? These are the colors that represent wealth and good fortune. Just don't take your uniform too far–red undergarments are considered highly taboo. You learn something new everyday.
We hope this little post helps you plan and prepare for your Chinese New Year! We would love to see your Chinese New Year celebrations so tag us in your photos on Facebook, or post to Instagram with  #superiorcelebrations.