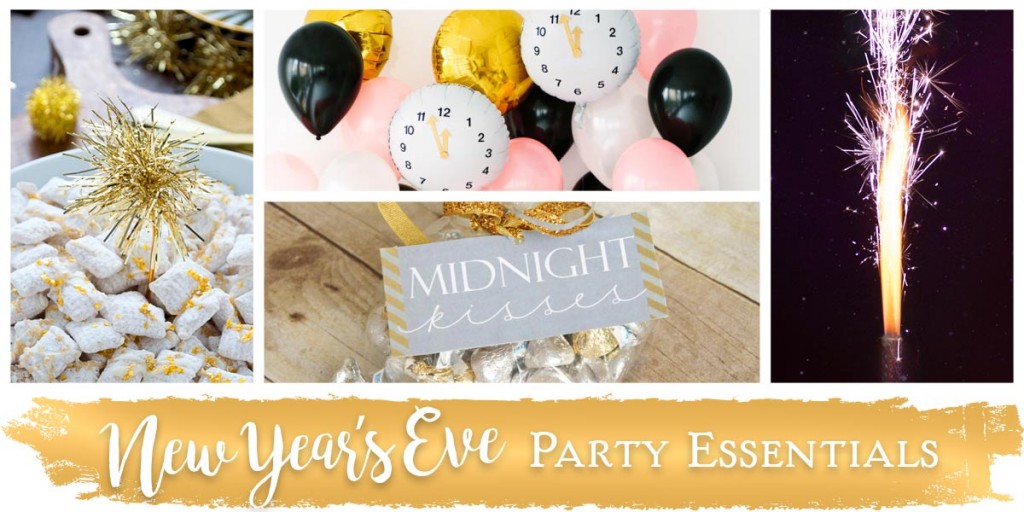 We know you're knee-deep in wrapping paper and frantically checking the calendar to see if Christmas really and truly is THIS WEEK. Hopefully your presents are purchased, wrapped, and nestled under your tree. All that's left to do is bake up a storm and watch The Christmas Story on repeat, right?
In reality, most of us are falling behind and desperately clutching the moments that seem to be on fast-forward mode. And while we know you're focused on Christmas/Hanukkah, we also want to make sure you get some of your favorite products in time for New Year's Eve.
Yep, we're talking about New Year's Eve today.
New Year's Eve is such an exciting day because it practically sizzles with anticipation. It's the last hurrah and the final exclamation point for the year. Do you spend the night party hopping, or do you keep it low-key and watch Times Square from your couch? Either way, when the clock strikes midnight you're going to want to ring in the New Year with pizzazz. We have some fun ways to add even more excitement to your New Year countdown!
1. Simple Decor
If New Year's Eve were a color it would be gold. And sparkly. Gold spray paint and glitter make your decorating an absolute cinch! Spray paint some empty wine bottles, jars, or vases to give a glam look to your table.
Another fun element to add to your decor are clocks. Since the day is all about counting down to midnight, clocks are quite, ahem, timely. You can make your own paper clocks and hang them around the house, or incorporate them into a centerpiece. Click here for some free clock printables to print out for easy decor.
You can also make your own balloon clocks. These would make a great backdrop for a photo booth!
2. Diverse Menu
Food is one of the most important factors for how you celebrate New Year's Eve. Because the night is long, snacking until midnight means its all about sweet and savory small bites. Check out these fabulous shrimp taco bites that are packed with shrimp, guacamole, sour cream, and cilantro. That's a lot of flavor for one bite!
Another fun and festive snack is Puppy Chow. If you have never experienced the bliss that is puppy chow New Year's Eve is the perfect time to try it. A little sweet, a little salty, and highly addictive, puppy chow is a great snack to munch on until midnight.
A fun drink to serve at a New Year's Eve party is a Champagne Shirley Temple. A delicious and easy drink to make, you just swap out the soda for some bubbly! Make a classic Shirley Temple to serve to guests who do not drink alcohol.
An occasion like New Year's Eve calls for an extra special touch. If you're serving champagne consider pairing it with our Bottle Sparklers. Bottle sparklers won't affect the taste of the champagne, but they will enhance the presentation with a gorgeous gold flame.
3. Funny Games
Games that get people talking and laughing are the very best sort of games to play on New Year's Eve. If you are hosting a mixed group of people who are not familiar with each other this New Year's Eve Recap game is perfect to play. Simply print out the free printable, cut up the cards, and have guests draw from a bowl. Sharing is key and will make for a fun and interesting way for everyone to get to know each other.
If you're hosting couples a really fun game to play is Truth or Dare Jenga. All that is needed for this game is a traditional Jenga set, Modge Podge, and this free Truth or Dare Printable Pack. Like the Recap game, this version of Jenga is meant to get you talking and laughing. It is definitely a fun game to have out on your coffee table for guests to play.
4. Party Favors
It's not essential that you provide party favors, but it is a thoughtful gesture. One sweet and simple idea is to package up some Hershey's Kisses and tie this free printable to the bags. Score some discounted chocolate right after Christmas!
One of our favorite party favors is a personalized confetti cannon. Guests will LOVE popping these babies at midnight, and you can customize them however you like! Read this past post to learn how to customize your cannons.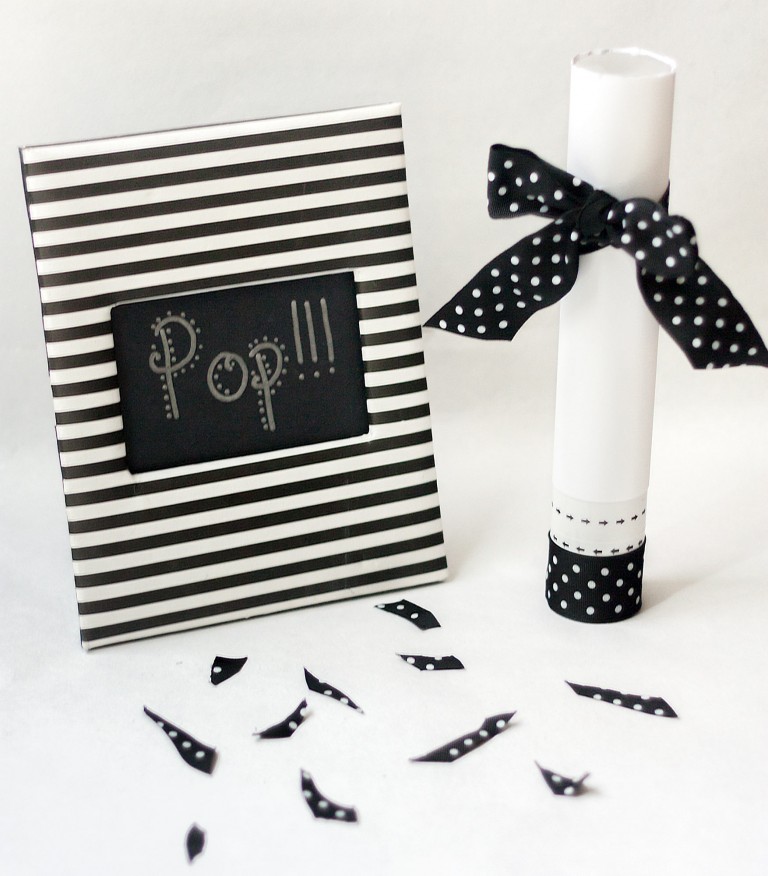 Our handheld confetti cannons make for glorious photos and great memories. If you are planning to use them in your New Year's Eve celebrations we urge you to order NOW as holiday shipping can be unpredictable.
5. Midnight Sparklers
Besides shooting off confetti cannons, can you think of any better way to ring in the new year than with sparklers? Sparklers make for a really fun activity during the final countdown. Our 20″ Gold Wedding Sparklers are our most popular sparkler and burn for up to two minutes. These are a perfect option if you are planning to take photos during your countdown.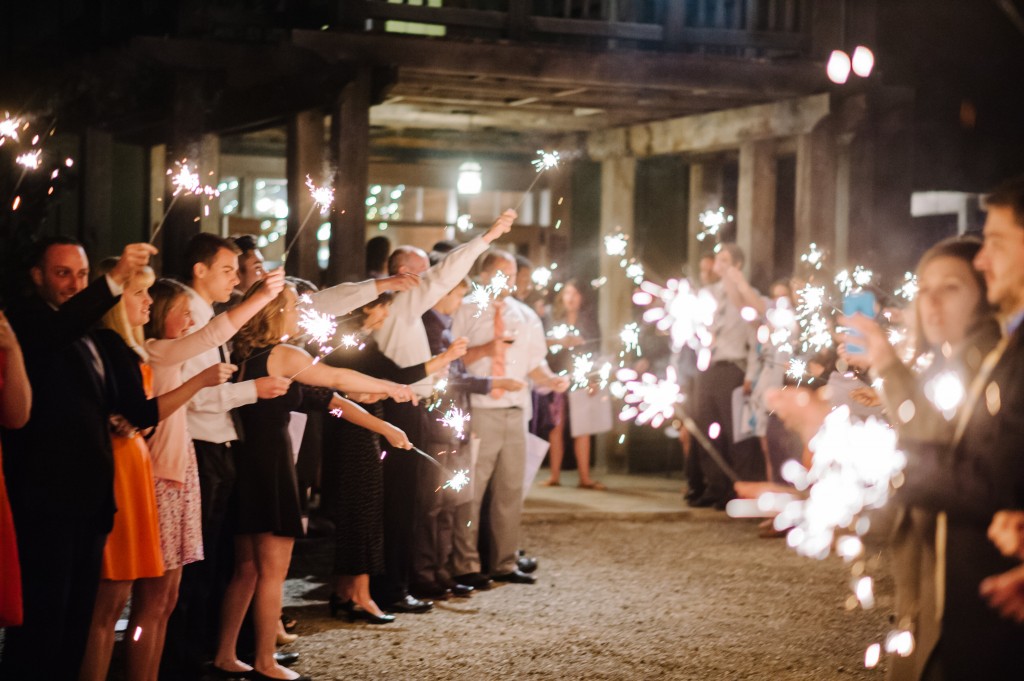 If children are present for midnight festivities our Fluorescent Sparkler Torches glow in green, red, and orange flames. They provide quite the wow factor for your final countdown.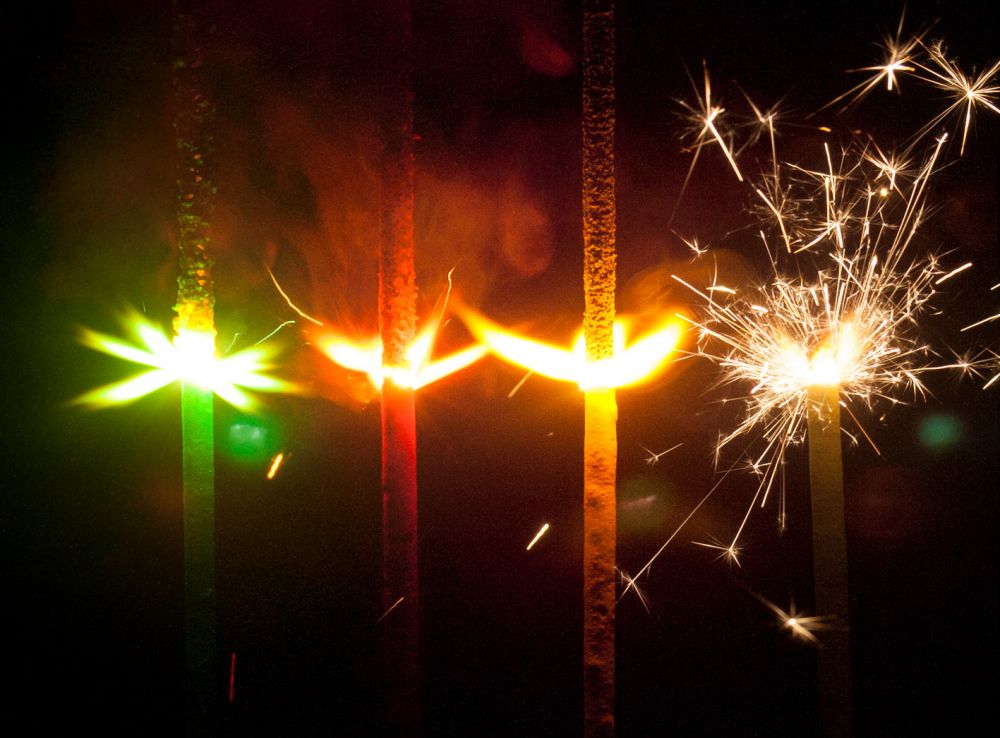 No matter how you choose to say goodbye to 2016 we hope you say hello to 2017 with great joy. As the great Alfred Lord Tennyson put it, "Hope smiles from the threshold of the year to come, whispering, 'It will be happier.'"
We hope the last few days of 2016 are absolutely wonderful and that you welcome 2017 with a smile.