You've sent the invitations, found the perfect dress, and even put the finishing touches on your masterwork, the seating chart. But one force conspires against even the most exquisite wedding plans–the weather. How can you make the best of a rainy wedding day?
Today we are excited to welcome a special guest who will answer that very question. Tucson, Arizona wedding photographer Laura Moore specializes in fine art storytelling and her work is absolutely mesmerizing. We asked Laura to chime in on the subject of rainy wedding days and you'll love what she has to share. So without further adieu, here's Laura!
Rainy Wedding Days
It is the unpredictable of the wedding day that is the most intense element of wedding planning. There are just SOME things out of our control. And while all you A-type brides squirm and vomit, I first salute you and your mad attempts to perfect as much as you can. I will then nod, lift my hands up to the orchestra made up of a million different sounds, roles, skills, experiences, vendors, friends, uninvited options, supportive family, rapport, and funky drama–and hope there is mighty music to fill your coffer of memories of years to come.
Memories and stories really are the potent centerpiece of wedding days post-fact. As a wedding photographer, this fact of unpredictability and human experience is often underestimated. There is much to orchestrate, but when a bride reaches that point of relinquishing what is outside of her control–it's so hard–but my goodness, it's gorgeous.
There are a bundle of awesome thoughts on HOW to handle rainy weddings days logistically, and there is a comforting "7 reasons you might want rain on your wedding day" you can read here. But as a wedding photographer who loves the story part of the business, I've got a few notes to emphasize.
If you let it, "the stuff that goes wrong can actually enhance the RIGHT things that matter most."
It started to pour at Charlie & Ronika's wedding at El Presidio in Downtown Tucson, Arizona right as the bride drove up in her Oldsmobile. Ronika and her dad hunkered in the cab of the car watching the rain and wondering what to do. You could see the switch in the bride.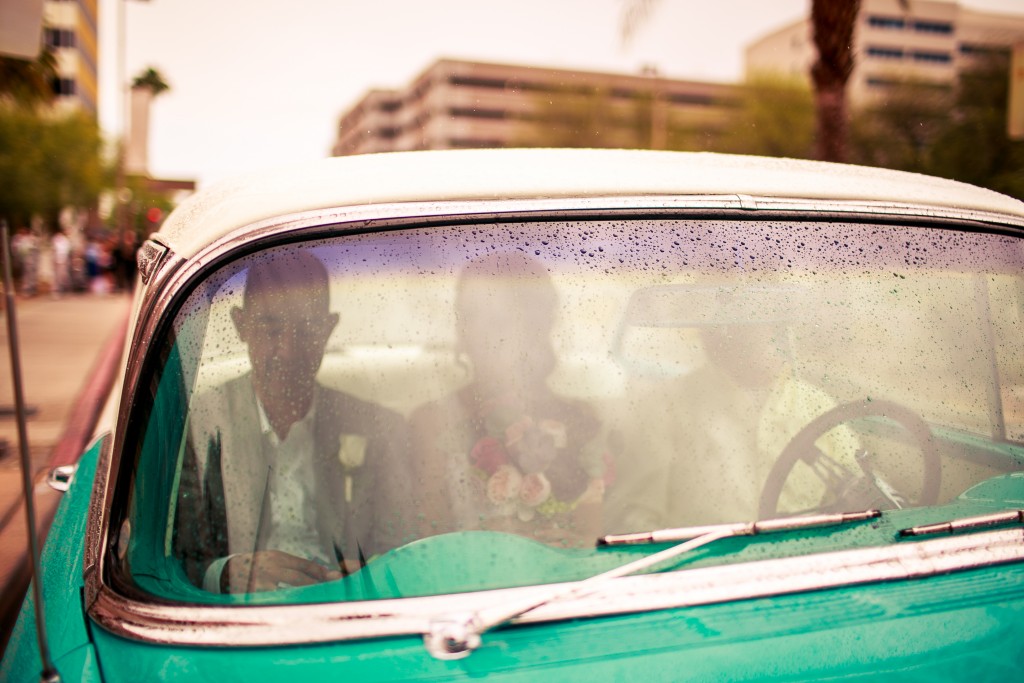 "It's raining! We're gonna do this! It's fine. We've got this."
Down the aisle everybody forgot they were wet. Charlie beamed and Ronika was radiant — it was as if the rain was forgotten and became happy, little fairy sprinkles. The picture of Ronika and her dad at the end of the aisle is one of my favorite wedding pictures.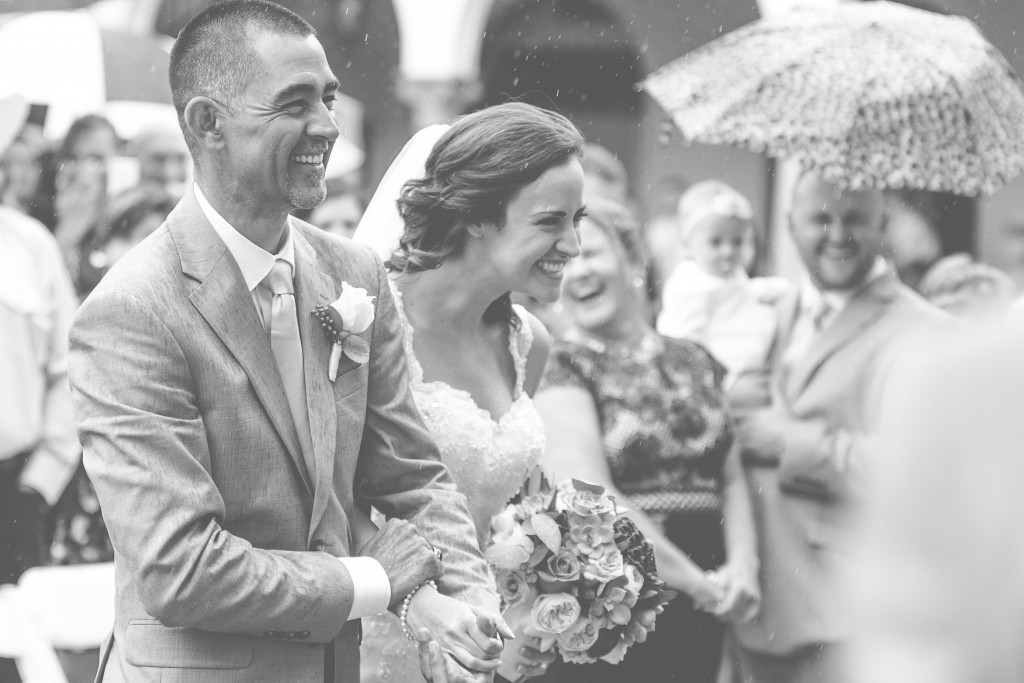 Mom, friends, and family exude happiness in the background. People were wet but they had let go of that, and stepped into that next stage of uninhibited celebration. What followed was one of the best parties ever.
Rain makes things come alive, especially the sky. 
The monsoon that hit Southern Arizona on a random November afternoon was definitely not part of Kimmy and Kenny's wedding day planning. There was a muscular approach to that "let it go" challenge. Gratitude was pending though… It was around 7:00, when we were about to make grand entrance into dinner time and the bride and groom saw my eyes glance to the hills. "Kim, Kenny — give me 5 minutes and you won't regret it." We booked it out to the street outside of The Gallery in Dove Mountain and grabbed a shot in the midst of the moody monsoon epilogue.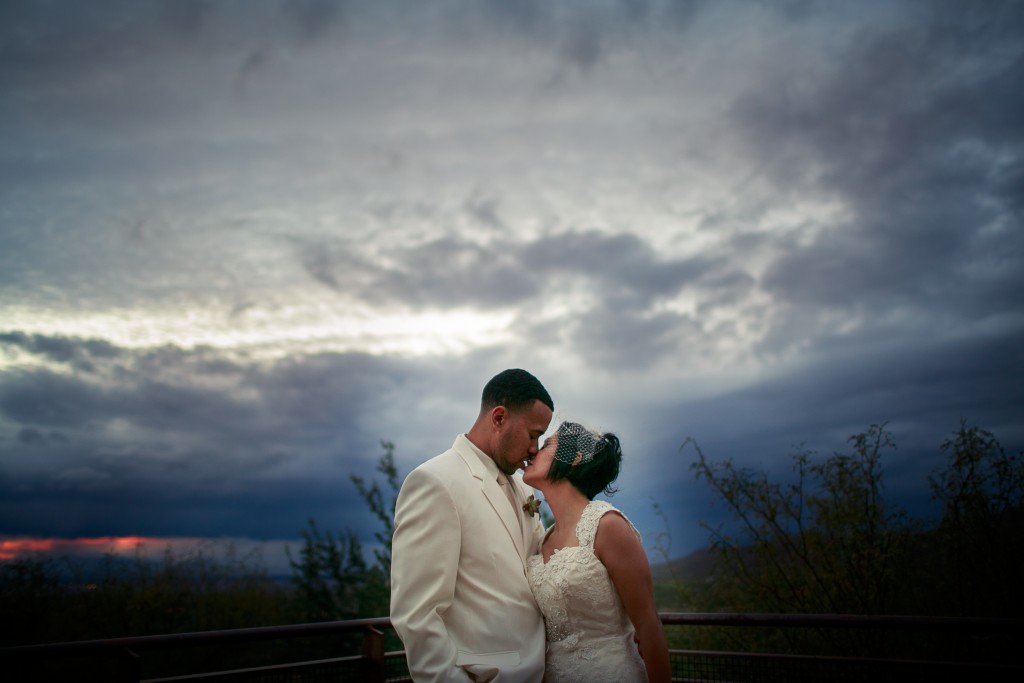 Note: we also caught the high beams of an oncoming car which added some fun drama…nobody was hurt and good grief, the flurry was worth it!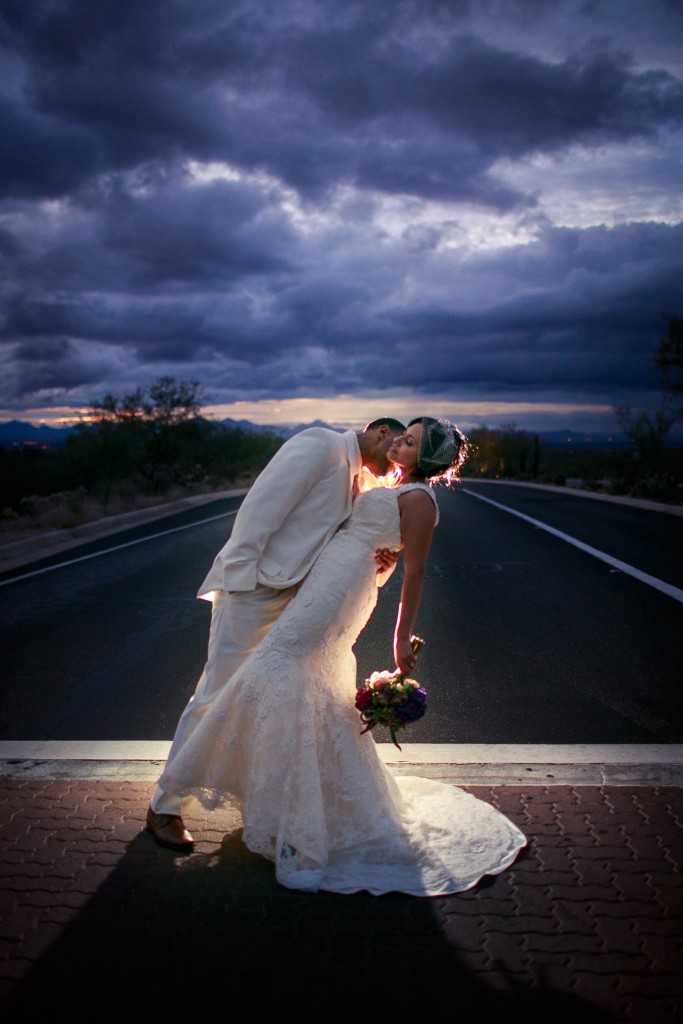 Rain makes couples cuddle.
One photographer recently swooned over rain noting how it made their couples more cuddly. I totally vouch for that. At the end of the day, I've seen some of the most tender moments happen in the midst of the unplanned and unpredictable.
Ashley & Sam rocked their wet, New Year's wedding day with such class. They had clear umbrellas for a dash of interest and embraced the chill–goosebumps and all.
Towards the end of the evening we slipped away from the party and shot off gorgeous, biodegradable Wedding Confetti Cannons. The confetti mixed with the light and rain drops for some dramatic results. It became a favorite from the day.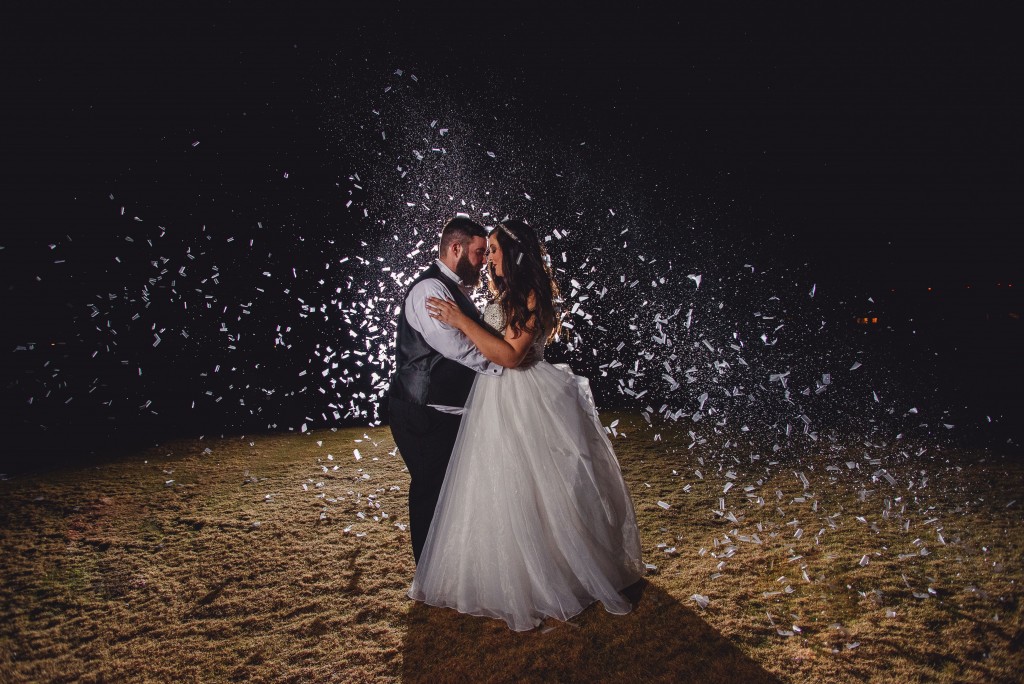 Alanis Morissette may croon about the irony of rainy wedding days, but as a wedding photographer I believe the STORY comes alive in the unpredictable. When couples loosen their hold of plans and just pay attention to the moment you get something really beautiful. It might mean muscling down a change of plans with a glass of wine, and I cheer lead that effort. Take off the jacket, put on your happy face, let the storm rage on and tell yourself "the cold never bothered you any way."
Huge thanks to Laura for contributing her insight and beautiful photos for this post. You can follow her on Instagram and check out more of her photography at Laura K Moore Photography.