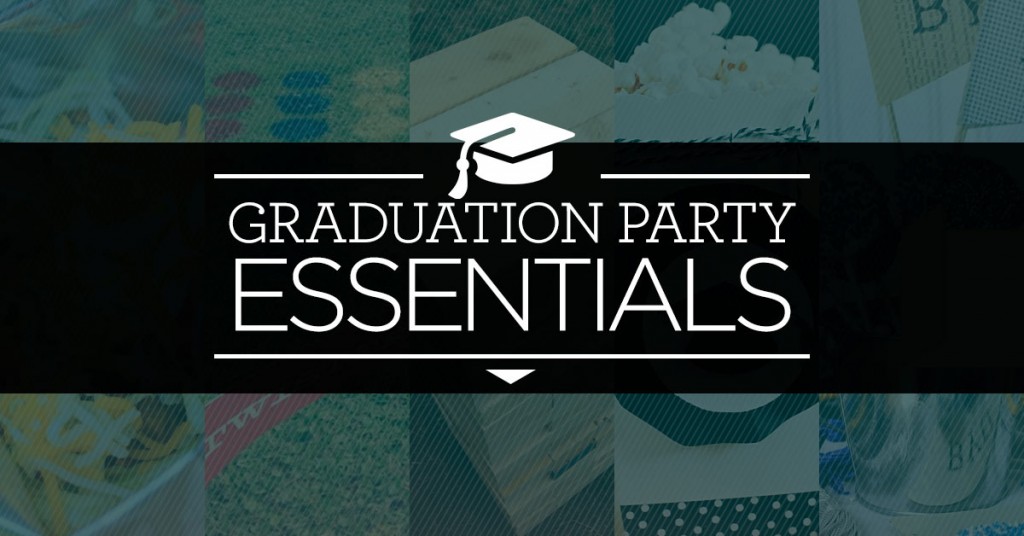 It's that time of year where mailboxes are crowded with commencement announcements and party invitations. Graduations from junior high, high school, and college are dotting the calendar for the next six weeks. Are you ready to host a spectacular party for your graduate?
Whether you choose to throw a grand celebration, or host a more intimate affair, we have some tips to make your graduation party memorable and fun.
 Graduation Party Essentials
Flexible timing
Because this time of year is replete with commencement services and events, it's important to give your guests the flexibility to come and go as they please. Aim for more of an "open house" setting than a structured party schedule. Depending on what part of the country you live in, May and June can be quite temperate months that are perfect for outdoor parties. For inspiration, visit the blog Joyful Homemaking for tips on putting together an open house graduation party.
Delicious, easy food
If you stick to an open-house format your food is going to to need to fit into that scheme as well. Having a delicious spread of appetizers and desserts is an easy way to satisfy guests throughout the course of the party. I like the idea of a bar-type buffet featuring an easy to assemble meal. Such as, Walking Tacos. I saw these on Pinterest a few years ago and I am sad to say that I still wait for someone to invite me to a walking taco party. I mean, you get to walk around eating your taco from a bag. That's a pretty special meal, if you ask me.
You might not think eating a taco from a bag is very classy, but Stephanie Lynn from Under the Table Dreaming puts out a cute spread that would work great at a graduation party.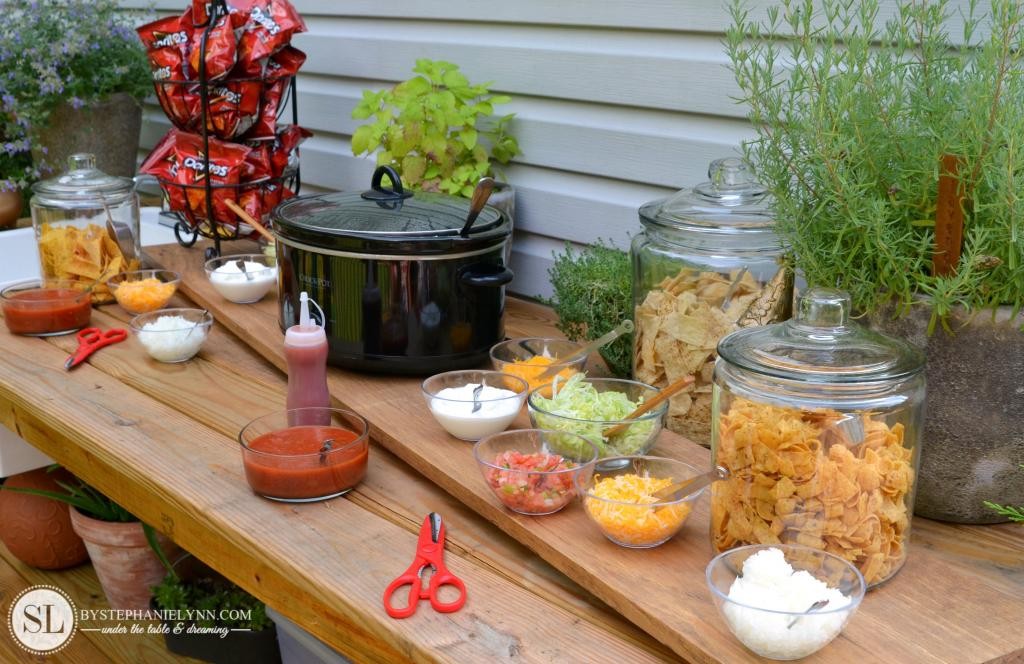 Some other fun meal ideas include a baked potato bar, chili, or a sandwich bar. Using crock pots, hot plates, or serving the food over ice will ensure that it lasts throughout the party.
Simple and thoughtful activities
While the point of the party is to celebrate the graduate, it is nice to offer some activity in which to involve your guests. If your event is outdoors, consider making this cute DIY Twister for a fun and easy game.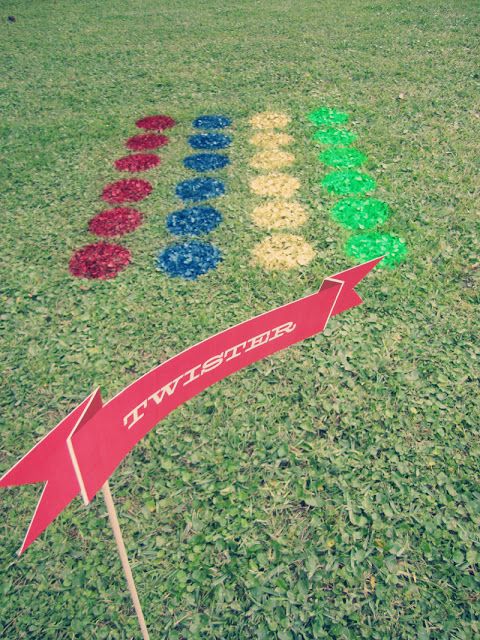 I also love the idea of Jumbo Jenga. It's the perfect activity that can go on with different guests throughout the course of the party. Just be wary of falling 2x4s!
Classy and edible decor
You would be hard pressed to screw up graduation decor. Pretty much anything goes–especially black and white, and/or school colors. I like the idea of using party favors/dessert as decor centerpieces. For example, these popcorn bags from Crafts Unleashed serve as a party favor, snack, and focal point. The black and white accents turn popcorn into a classy treat!
In the same vein as serving popcorn favors, you could also opt to dip Oreos in school colors. You can actually dip just about anything–crackers, cake balls, pretzels–the sky is the limit with chocolate-dipped treats! Your Home Based Mom dipped Oreos for her daughter's graduation from BYU and the result is absolutely darling.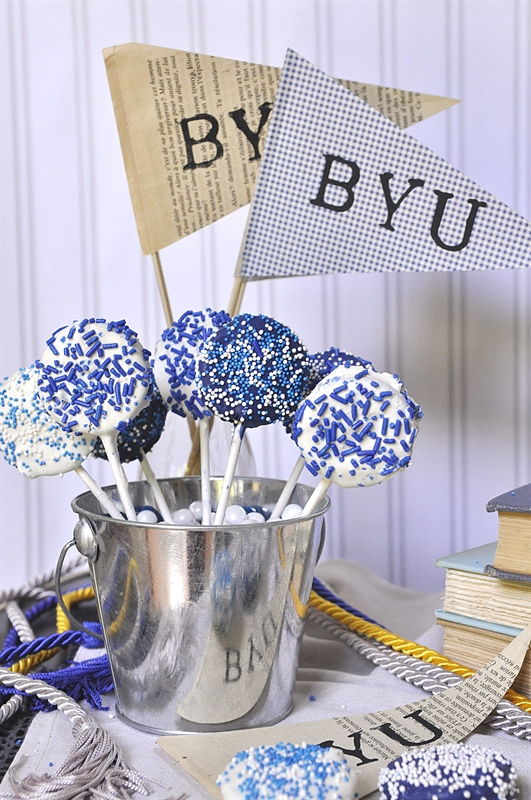 The little flags she created to sport BYU pride are super easy to replicate. Simply cut out flag shapes from old books or card stock and glue onto a dowel rod. Stick the dipped Oreos and flags in a bucket and Wa-La! Adorable decor that your guests can eat.
Our LED balloons are the perfect accompaniment to your fabulous decor. Use our balloons to highlight your school colors and provide a fun, ambient light to the party. Our white balloons are especially classy, and look amazing with the black and white theme that is traditional for graduation parties.
Printable signs
In a world where Pinterest and printables prevail, you really have no need to spend money on things like signs and props. Cute, framed signs placed here and there will go far to advance your party theme. We particularly love this free, sassy sign from Birds and Soap.
You can choose boy- or girl-themed colors, and placed in the right frame it would be perfect on the dessert or gift table.
Beyond adding to decor, you can encourage guests to create a buzz on social media with your graduate's very own hashtag. Check out this cute little prompt from The Thinking Closet to get guests to post pictures on Instagram!
You know people will be taking pictures–you might as well encourage them to add to your graduate's very own graduation feed!
Grand finale
Whether you choose to end the night in dance, confetti cannons, sparklers, or sky lanterns–make sure your evening closes with a bang. We have a simple DIY tutorial that turns our confetti cannons into adorable props. Click the picture below to learn how to make them!