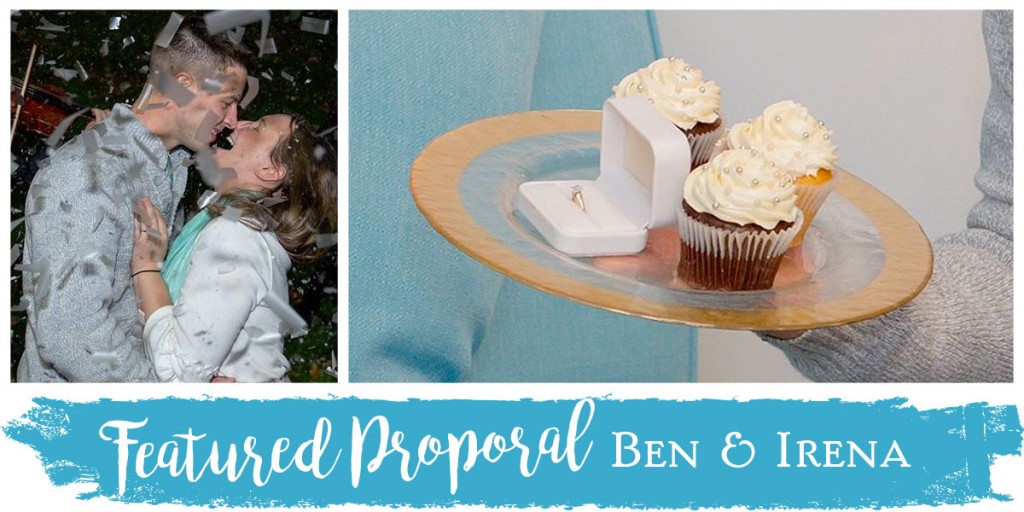 We often talk about weddings here and hope to provide inspiration for couples planning their weddings. But what comes before the big day? The proposal, of course! While it's the ultimate romantic gesture, proposals take creativity, guts, and sometimes a team of people to pull off with finesse. So what happens when you put your proposal in the hands of a wedding and event planner?
Magic.
Today, we want to share a sweet story while spotlighting a few of our friends from the wedding and event industry. What's especially fun about this proposal is that the couple, Ben and Irena, both work as vendors and know their way around weddings. Ben works as the chief operating officer for Chase Canopy, a company specializing in luxury tents and event rentals, and Irena works for BBJ Linen, the nation's leading provider for linen rentals. The fairy godmother of this story, Lisa from Creative Concepts by Lisa, worked with Ben to pull off a spectacular proposal that was watched by 20,000 people on Facebook Live.
Now, before we get to the juicy details we have to tell you a little bit about Lisa and her fabulous company.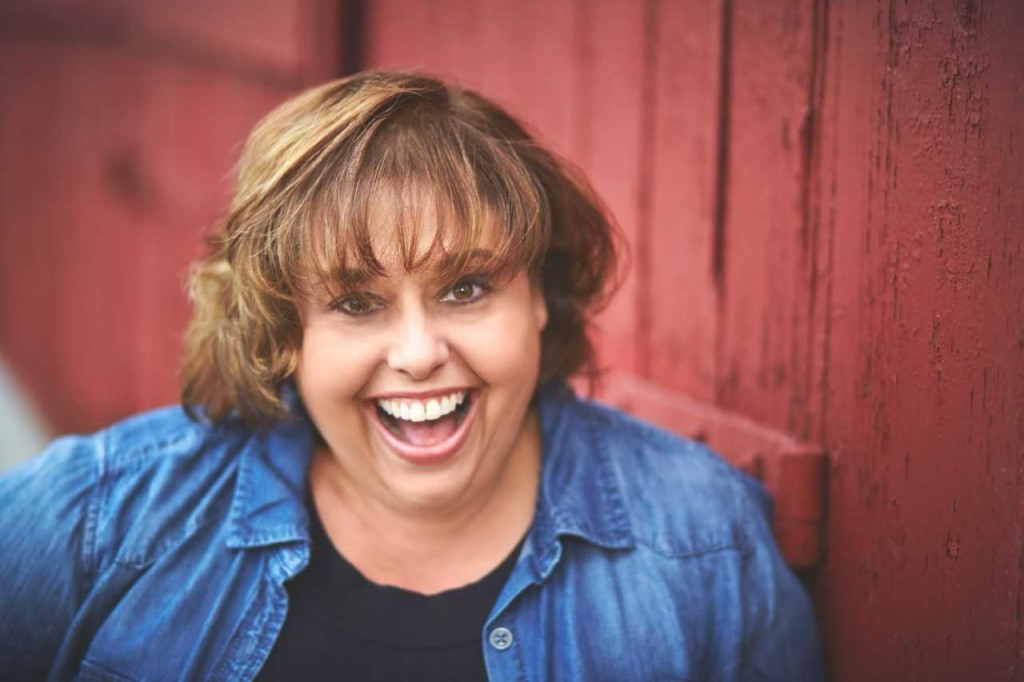 Lisa started her business in Hamden, Connecticut back in 2009. Since then, the team has grown and now has offices in Mattapoisett, Massachusetts as well. Lisa describes her philosophy as making her clients shine. She says, "My philosophy is simple, when the curtain goes up you get a standing ovation! I absolutely love being a wedding planner and making you the star of the show." Lisa's enthusiasm is infectious, and it's no wonder Ben turned to her to help stage his proposal.
So how did Lisa manage to get both Ben and Irena into her office for a Facebook Live event? The Teal Couch. Every Tuesday, Lisa invites industry vendors to come to her office, sit on her teal couch, and engage in a live Q & A. The Teal Couch provides what she calls "wedding therapy," and gives the perfect space to swap stories, exchange laughs, and share valuable information with her audience.
When Ben and Irena came on it was because they are TWO of my industry vendors, but behind the scenes Ben and I had been working to get Irena on the show for months and surprise her with the wedding proposal!
Ben appeared on the Teal Couch over the summer and that's when he decided to pop the question in Lisa's office. The proposal didn't take place until November, after luring Irena in under the pretense that she would be talking about BBJ Linens with Ben and Lisa.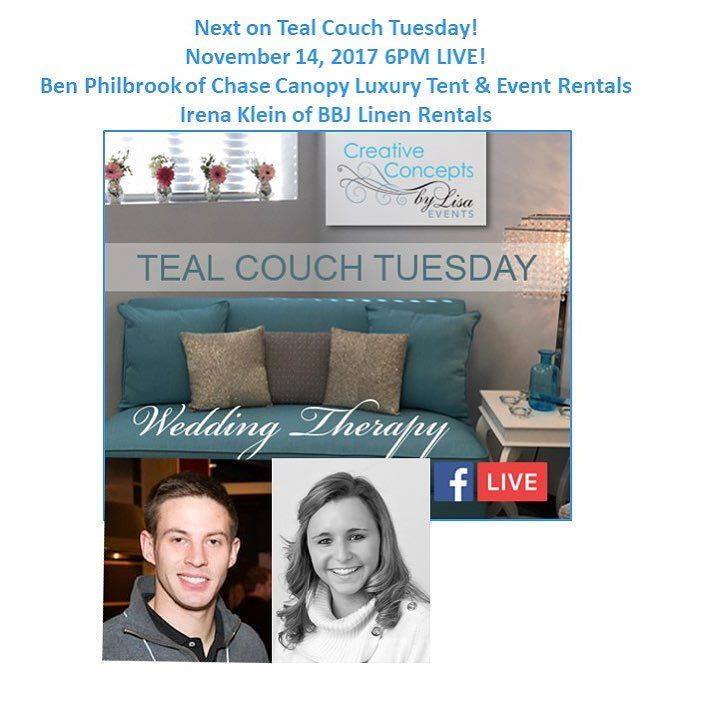 After scheduling the show, Ben left the details up to Lisa–genius move, by the way. Lisa collaborated with some of her favorite vendors to put together the perfect spread:
Ben purchased his ring at Jared's Jewelry and dropped it off with me the week before the show so she couldn't stumble upon it. I then contacted my friends and fellow vendors: Luigi of Forget Me Knot Flowers for the dozen red roses, Hope at J-Cakes for the amazing cup cakes adorned in edible pearls and diamonds, Steve of Juhasz Music for the live music and JC of Robert Norman Photography to capture it all! Funny, I set up the on-site photographer as being in my office to take images for my website, and we even did twenty minutes of "mock photos" pretending they were clients, and now they are. Irena was NONE the wiser!
Lisa introduced Ben and Irena and allowed them each some time to talk about their respective businesses. They then went into the Q & A format for a typical Teal Couch session. After some time, Lisa asked Ben to retrieve something from another room while she and Irena continued talking. A few minutes later, Ben came back accompanied with musicians and immediately got down on one knee. Irena was so shocked that he had to ask the question twice.  You can see the disbelief on her face in this photo.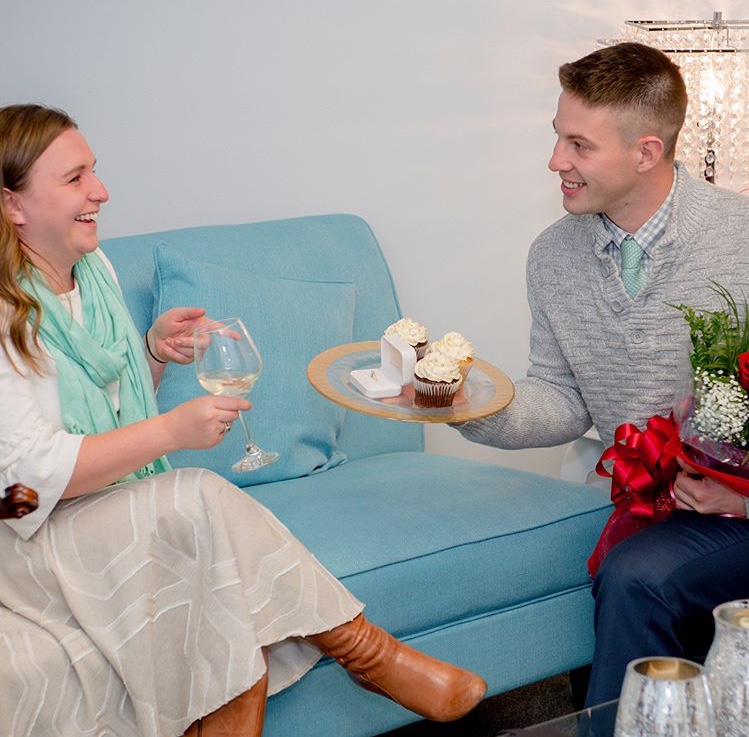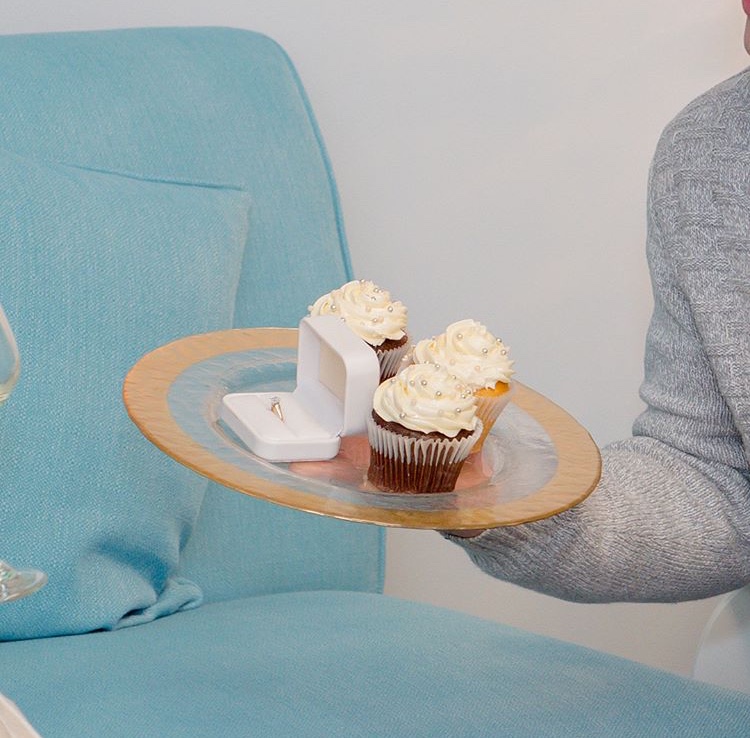 This is after Ben popped the question a second time. This is most likely the moment that all the women watching on Facebook Live started getting a little teary.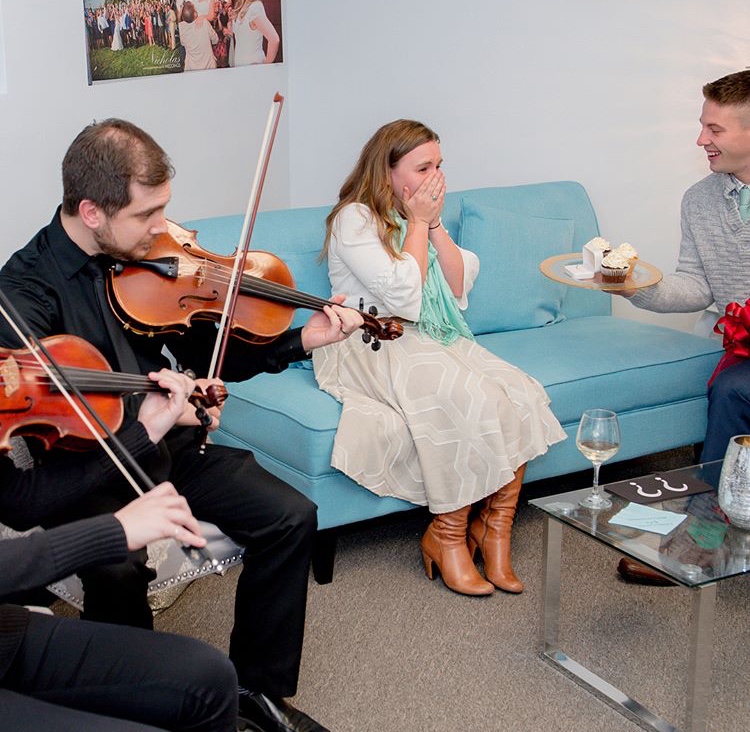 When you think of the number of people involved in this proposal, and the fact that it was recorded on Facebook Live it's almost a miracle that it went off without a hitch. Lisa explains that Ben really did his homework to make sure that everything went perfect. He even came down a few days earlier to do a "walk through" to practice with Lisa. Someone give this man a Klondike bar! Major kudos, Ben.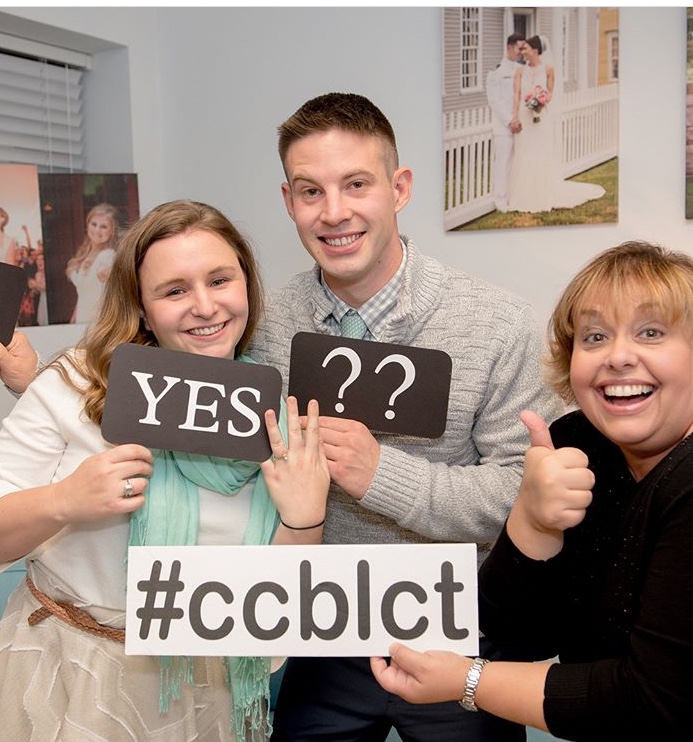 We might be a tad bit biased, but one of our favorite parts about this proposal is the photo op they did using our confetti cannons. We always get to see them used for weddings, but just maybe they are even more magical at proposals?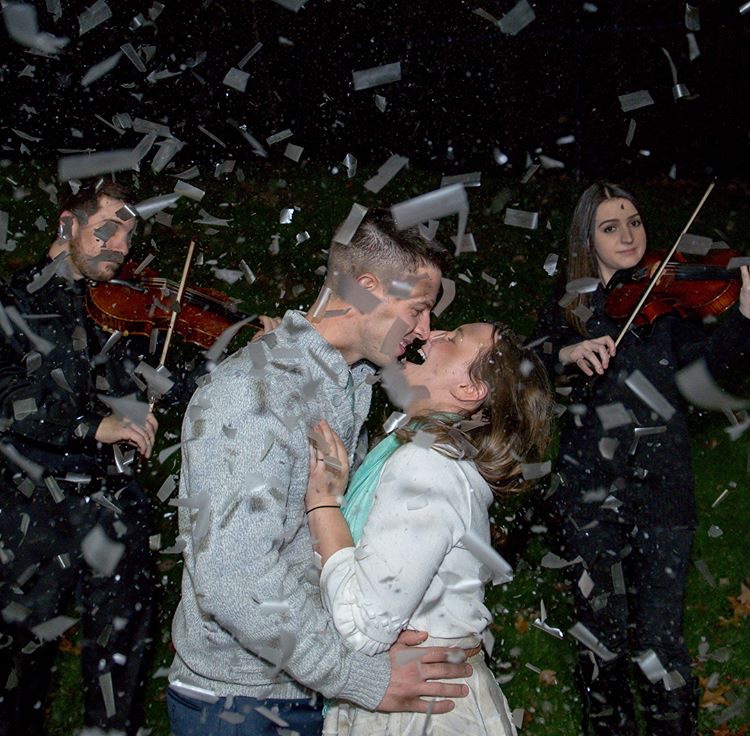 Lisa will be along for the ride of wedding planning and assures us that a wedding set for 2019 is on the books. Ben and Irena asked her to be the officiant and she assures us that it will be a "tented affair," most likely dripping in gorgeous linens. We hope to see some sparklers and confetti cannons make an appearance as well (wink).
Congratulations, Ben and Irena! What a beautiful proposal and exciting day. If you want to watch how it all unfolds you can see the recorded video from Facebook Live on Lisa's page. Make sure you follow her on Instagram as well! A huge thanks to Lisa for sharing all of these insider details with us. We are so excited to see what is sure to be a fabulous wedding in 2019.