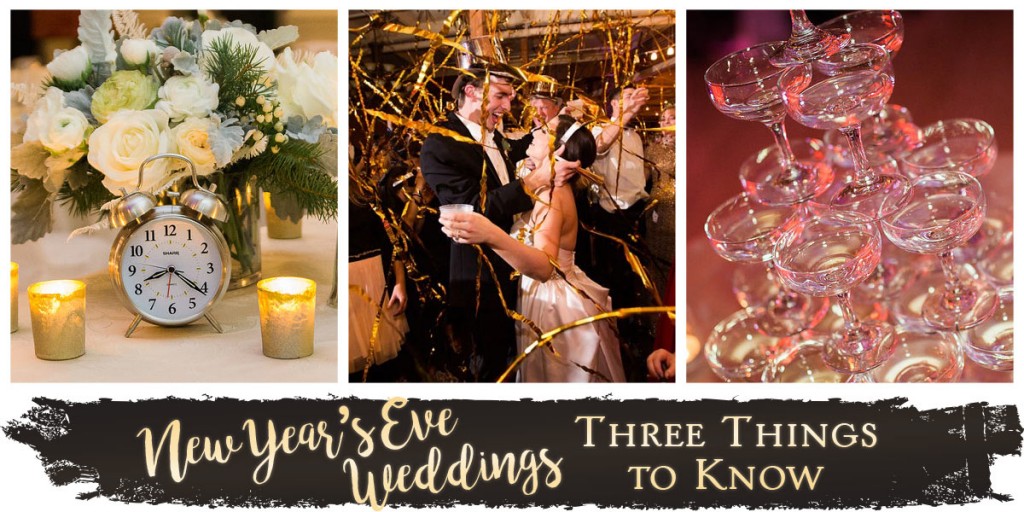 So you just got engaged, and now everyone and their mom is asking when you'll tie the knot. You smirk, giggle, and then spill the beans:
"We're getting married on New Year's Eve!"
Mic drop, right? Like elopements and destination weddings, a New Year's Eve wedding is in it's own special class. Getting hitched on such a big holiday requires extra planning and consideration. We asked around and got the inside scoop from photographers, planners, and even a bride on what you need to know as you plan your NYE wedding.
New Year's Eve Weddings: Three Things You Should Know
Timing
One of the most important aspects to your NYE wedding is the schedule. As the holiday is focused on the clock striking midnight it's crucial that you don't start your event too early or too late.
Event planner and florist, Laura of Elegant Events by Laura, has a specific timetable she uses for weddings:
"We start the first look at 3:30/4, shoot the bridal party at 4/4:30, and finally the families around 5/5:30. The ceremony is held at 6:30, followed by cocktails. Dinner is at 8:00 and dancing 8-12:30. The reception is slightly longer than usual receptions, but timing is fairly typical. The most important thing to remember is having an earlier for the couple so you don't lose the light!"
If you follow the timetable that Laura suggests, your guests should arrive around 6 PM. Make sure to serve some hors d'oeuvres with your cocktails and you will keep your guests both comfortable and happy with a later dinner. Remember, they are going to party until midnight so it's crucial you keep everyone energized.
Style
As the party is supposed to last until midnight, your NYE wedding will not be kid-friendly. If you're worried that your guests with children won't attend, don't be! Erica from Sweet Alice Photography puts it this way:
"I have found that most people who have children don't always go out to parties, but will happily find a babysitter for a NYE wedding. I think NYE weddings give guests a good reason to actually celebrate on that evening rather than stay home. "
That's right. Your wedding just became every parent's New Year's Eve date night! Additionally, NYE weddings tend to be fancier, and guests are happy to have a chance to dress up. It's a night everyone wants to celebrate, and your wedding provides the motivation, space, and ambiance for an awesome and memorable New Year's Eve.
Erica also suggests that you have some fun party props on hand. "We usually pick up the party packs of crowns, beads, and hats in black silver and gold and people really love that and it makes for some amazing pictures."
May we also suggest some confetti cannons for dance floor fun? Our customers Emily and Travis used our Gold Metallic Streamer Cannons for their NYE wedding, and we love the way their pictures turned out!
Sentiment
Perhaps the very best thing about a New Year's Eve wedding is the sentiment behind them. Beginning a marriage at the start of a brand new year is a pretty special thing to celebrate. New Year's Eve also makes for a great anniversary date. You're guaranteed fireworks and champagne for years to come!
Melissa from Bell and Ivory Photography chose to have a NYE wedding and her insight is beautiful:
"People say you're supposed to kiss the person you want to spend the next year with at midnight. Imagine getting to do that for the first time with the person you plan to spend the rest of your life with?"

If that's not motivation for having a NYE wedding I don't know what is! Are you planning a NYE wedding? We would love to hear from you and see what you do with this awesome wedding date. Make sure you check out our selection of wedding sparklers and confetti cannons for your big day.