The last decade bears witness to a huge shift in wedding planning. What was once represented by a massive binder full of lists, magazine clippings, and post-it-notes has been replaced by everyone's favorite electronic device: the smartphone. Say wha??
There is an app for just about everything, and today's bride will find an abundance of resources a mere download away. With so many options available, we have taken the trouble (so you don't have to!) and found the five best apps for wedding planning. Say goodbye to that binder and streamline your planning in just a few easy steps.
5 Essential Wedding Planning Apps
1. Wedding Wire
Wedding Wire is a one stop site that covers almost every base of your wedding planning. From budgeting, to guest lists, to seating charts, to vendors…ah, this is where it strikes gold. While the Wedding Wire app provides all sorts of helpful tasks and to-dos, their list of vendors is what makes them extraordinarily helpful to the busy bride. Think of it like Yelp but for bridal vendors. With ratings, reviews, and contact info next to each vendor listing, finding and securing a vendor has never been easier! A vendor listing will look like this: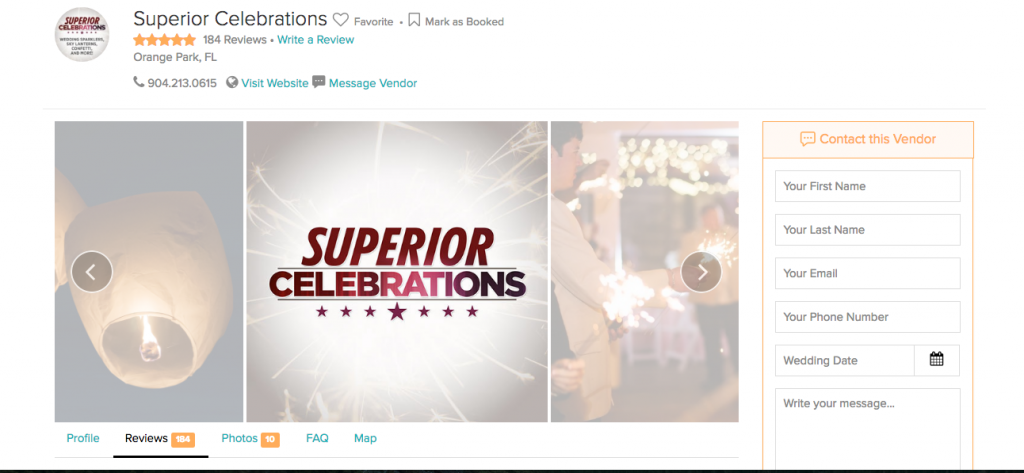 Oh, why look at that! Shameless plug: Superior Celebrations won a 2016 Wedding Wire Couples Choice Award and the 2016 Weddi Award for Customer Excellence in the Favors and Gifts category. Wedding Wire utilizes user feedback in a way that benefits everyone. Available for both iOS and Android, you can download their app here.
2. Joy
Most couples do not have the luxury of having ALL their friends and family in one state. Often, planning includes a cross-country amalgamation of guests. This beautiful app, Joy, provides a space for the bridal couple, wedding party, family, and friends to converge and participate in the wedding plans.
Joy offers the advantages of paperless invites, multiple admins, and even has a place for travel itinerary! Yes, it's a great place to sort all of your out-of-town peeps. What's more, Joy aspires to be the "ultimate icebreaker" in bringing together everyone who takes part in your wedding. It is this very feature that sets this free app apart from others. The fact that community is at its core makes this app a beautiful tool to enhance your wedding for everyone.
3. The Knot
Today, we rely so heavily on apps (and the internet) that sometimes it is hard to remember what we did before we had this many resources at our disposal. Well, the brides of the 90's and early 2000's will tell you: magazines. Yes, prior to Pinterest and savvy planning apps the predominant space for wedding planning was the wedding magazine aisle. And the leading magazine in the wedding industry B.A. (before apps) was The Knot Magazine. A resource available online and in magazine stands, The Knot would showcase "the dress" while also offering constructive wedding planning advice.
Today, The Knot Magazine offers their brides customizable wedding websites, registries, and planning tools. Their app mirrors the online site but also showcases vendors. Like Wedding Wire, couples can weigh in and rate their vendors. So what makes it equal to or even better than Wedding Wire? Ten years more experience. While Wedding Wire was founded in 2006, The Knot started in 1996. When looking at an industry it's always best to locate the leaders. The Knot is a groundbreaking leader in the wedding industry. You must check them out–side note, The Knot also features Superior Celebrations as a 2016 The Knot Best of Weddings Pick.
4. Wedding Budget Calculator
It's not the most fun to talk about, and it certainly has no bells or whistles, but the Wedding Budget Calculator is the perfect place to stop and evaluate where your money goes for your wedding.
The tricky thing about a wedding is—it always costs more than you think. A "wedding budget" sounds mean and restrictive until you see how freeing it can be.
The Wedding Budget is a great app for calculating all of the costs involved in executing your event. This is not your "feel good," happy-go-lucky app. Instead, the Wedding Budget Calculator offers you a bare-bones synopsis of what money/funds are available for you to use. Often a source of contention, the budget is a very important place for wedding couples to come together and work through the details. We like this app because it offers a no-nonsense approach to what can be a convoluted and dramatic part of the wedding planning. Kudos for simplicity, Wedding Budget Calculator!
5. Zola
Now that we've paved the way for your wedding planning it's time to move on to the best part–gifts! You can forgo the old-school method of scanning barcodes in Target and instead offer your guests the option of gifting activities, contributing to honeymoon funds, and buying your dishes.
What's helpful about this approach to registering is that multiple guests can contribute to one gift if you mark it as Group Gifting. You can also control the shipping of your gifts and determine when an item will arrive. And the very best part? You can exchange everything online. Yes, no driving all over tarnation and no waiting in long lines at customer service.
We are fortunate to live in a time such as this! Mobile apps can totally change your wedding planning game. We hope this helps you streamline your wedding planning and shaves some of the stress off your life. Happy planning!