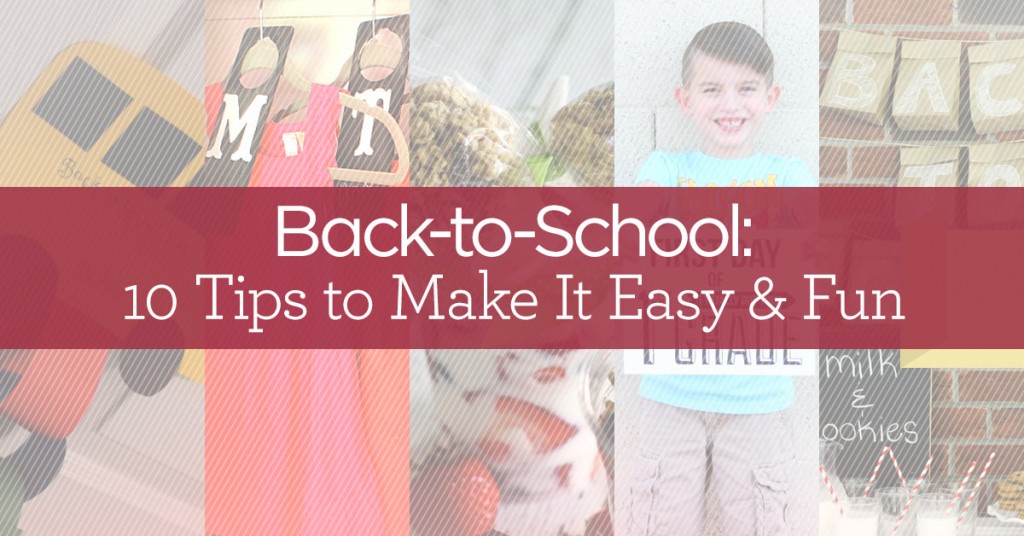 It's that time of year where parents are giddy with excitement and kids are mourning the end of summer. That's right, it's back to school time. Raise your hand if you're excited.
To ease your children (and yourself) back into the structured routine of early wake-ups, afternoon homework, and school nights, we have put together a list of fun and helpful tips for going back to school. After all, back to school is a momentous celebration and we wouldn't want to miss the opportunity to make it superior. Wink, wink.
Back-to-School Tips
1. Back-to-School Countdown
The first day of school is a momentous occasion, and for those kids who are reluctant to return, it helps to build anticipation. While it's not an advent calendar leading up to Christmas, a simple paper chain countdown can be used to remind your kids of all the fun things to expect in going back to school. For instance, my kids are getting pumped about seeing their friends, using their new lunch boxes, and returning to their favorite after-school programs. Counting down to the first day of school has been going on for at least a month in this household (or all summer if you ask us parents). A paper chain is especially helpful for younger kids who cannot yet grasp the concept of time.
2. Weekly Wardrobe Planning
One of the many things I have learned as a parent is that most kids want to have a say in their daily appearance. I have had many a battle over what is or isn't appropriate for my daughter to wear to school. Some of the arguments have started with me saying the following:
"No, rain boots aren't necessary when it's ninety degrees out and sunny."
"A bathing suit cover-up isn't really considered 'clothes' by your principal."
"I guarantee you will regret wearing that scratchy Easter dress when you're sitting in class for six hours."
The list goes on–and that doesn't even cover the conversations I have with my five-year-old son.
To cut out the morning arguments, I let my kids have a say in their weekly wardrobe on Sunday nights and together we label which days they will wear them. This is especially helpful for the days they have P.E. or an art class. You can keep this super simple with just a slip of paper tacked onto a hanger, or you can make it cute by following this tutorial by Uncommon Designs.
3. Morning Hygiene Caddy
You can be the most scrupulous of organizers and find that five minutes before leaving the house–a toothbrush disappears and someone hasn't yet brushed their hair. Ugh. A good way to combat this kind of chaos is to have a morning hygiene caddy for each kid. Depending on their needs, you can fill this with a toothbrush, toothpaste, washcloth, hairbrush, and/or hair products. Set these babies in the bathroom the night before and your morning will be so much smoother! And, like the wardrobe planning, your kids will enjoy taking responsibility for their appearance.
4. Creative School Lunches
One of the biggest deals for elementary school children is the bounty of their lunch box. Gone are the days of the bologna sandwich. Kids these days are sporting Bento boxes full of healthy little snacks and bites. I have found that kids don't need fancy so much as variety. I try to incorporate as many vegetables and proteins as possible without having them know my intentions. You gotta be sneaky. Here are two of my favorite ways to ditch the sandwich and please the kiddos:
Lunchbox Kebobs: because food on a stick is always better. You can stack their favorite meats, cheese, and fruit/veggies on little skewers and have your kid win recess because their food looks so pretty. Just remind them to quickly dispose of their skewer and to not use them as swords. *ahem.
Corn-Dog Muffins: Did you know you can actually sneak veggies into corn dogs? My kids love corndogs and feel pretty special when they get to have one at school. Plus, this recipe sneaks in some veggies and was created by yours truly.
5. Make-Ahead Breakfasts
While we're talking about food–how about breakfast? School mornings are rushed and frenzied. Oftentimes, breakfast–the most important meal of the day–is inadequate in fueling growing minds and bodies. I have found that the best way to get a nutrient-dense breakfast into my kids is to make it before the rush of school morning. These two recipes are packed with protein and brain-fueling food AND can be made days before you eat them.
Fruit and Yogurt Parfaits: Packed with fruit and loaded with calcium, you can use mason jars, tupperware, or disposable cups to pack up for a quick and nutritious breakfast. I like the idea of bagging up granola separately to toss in right before eating!
Freezer Breakfast Burritos: Another favorite make-ahead breakfast are these breakfast burritos that can be made even a month in advance. Load them with eggs, sausage, cheese, and veggies for a protein-packed start to the day. I find that wrapping them in paper towels first and then sealing with wax paper or cling-wrap makes for easy microwaving.
6. Back-to-School Photo
If you don't document the first day of school then it didn't happen. Just kidding. With so many great free printables out there, you can easily chronicle your child's first and last day of school, and see the growth/changes that one year makes. Check out these first- and last-day free printables from The Crafted Sparrow.
Another cute idea is to start a tradition with their graduating class teeshirt and watch them grow into over the years. This is especially cute if you start it around pre-school age!
7. Back-to-School without Tears
If your child is starting kindergarten or struggles with separation anxiety, the phrase "back to school" can be a trigger for major anxiety. You can expect tears, tantrums, and a general sense of misery during those first few weeks of school. I've done this twice over and I will say getting your child to feel secure and even happy to go to school takes time. A great way to encourage them and perhaps ease them into the week is to send them off with a reminder that you are thinking of them while they are away. You can find some matching bracelets or necklaces and print off this free printable to give to them.
Another useful tool for school jitters is bribery. Yep. Find a prize that they can earn by going to school every day without tears. For small children a full week without tears can feel like an enormous task so make sure you break it down for them each day. This "No Cry Goodbye Card" is a sweet and simple way to show them how they earn their reward.
8. Back-to-School Party
You can get kids excited to return to school by gathering several of their friends for a back-to-school party. Decorate with notebooks, chalkboards, and red apples to get them in the mood for all things school. This is a good thing to do especially if you have been traveling during the summer and your child hasn't spent time with their school friends. They will feel more excited and comfortable on that first day if they get to see their friends beforehand.
9. Homework Station
Homework is the task that kids and parents alike both dread. Kids today are subjected to a mountain of homework each week and their parents must prod and goad them to finish it. You can encourage them to start the year strong by giving them a special space just for doing homework. Designate a place for them to put their papers as soon as they get home from school each day. You will spare everyone the headache of looking for missing assignments and parent forms.
10. Celebrate!
Congratulations, parents! You made it through the summer! Now take a breather and treat yourself to a quiet house house…until they come home in six hours.