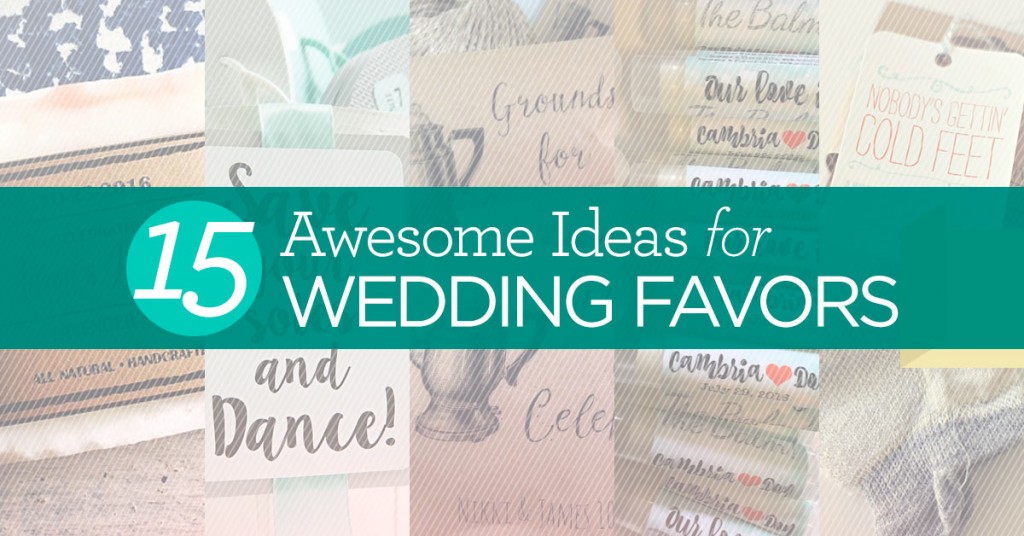 Wedding favors are one of the many ways you can show your gratitude to guests while modestly "wowing" them with your generosity. There is no rule that says you HAVE to give guests a favor at your wedding, but the gesture is always nice. Today's bride is met with a wide variety of wedding favor options ranging from monogrammed beer koozies to to embossed Swarovski crystals. With so much to choose from we wanted to narrow down our top fifteen favorite favors. These are the wedding takeaways that will actually be enjoyed and not wind up in the junk drawer.
This roundup is so great you are going to want to gift everything! But we recommend that you choose a favor that both resonates with your theme and is something you would enjoy having. Just be leery of the favor-snatcher–every wedding has one. I know this because I myself am extremely stealthy in swooping up neglected favors. Especially if they are of the chocolate variety.
1. A Clean Start: Soap
While your wedding theme might not dictate such a calcified outlook on love *ahem* soap is always welcome. Give your guests the gift that keeps on giving with a beautiful, sweet-smelling, handmade soap. They can slip your special wedding label right off and use it for days on end.
2. Dance Floor Rescue: Flip-Flops
Besides your bridesmaids, a good 50% of your guests will forgo comfort and instead wear perilous heels. While stilettos might suffice during the seated ceremony, the dance floor is another story. You can discreetly acknowledge foolish shoes while ingratiating yourself to the multitude of blister-bearing fashionistas.
3. Consumable Goods: Coffee
If you reflect on your social circle, you will be hard-pressed to find a large group of non-coffee drinkers. Coffee is a social currency and you can give your guests something exceptional and memorable in a good brew. This can be a fun extension of your personality and a chance to showcase a local business by gifting each guest with several cups of ground bliss. You can DIY your favor bags or purchase some like the ones pictured below. Just make sure you pay it forward and let your guests know where their coffee is from so they can buy more!
4. It's An Outdoor Venue: BUGS!
So you have this great venue and you get to have your dream wedding OUTSIDE with NATURE! When you envision the glorious culmination of months of planning, preparation, and, quite frankly, agonizing–the last thing you're thinking of is the intrusion of native insects. Mosquitos, ants, and spiders oh my. That is the last thing you want you or your guests to worry about on your beautiful day. Enter bug spray: to be given at the BEGINNING of the ceremony lest anyone find themselves unprepared.
5. Spice It Up: Spice Blend
Like the coffee connoisseurs, there are many spice aficionados amongst us. If you find yourself to be part of this gourmand category why not gift some of your expertise to your guests in the form of a delicious spice blend? Whether its a BBQ rub, a salad sprinkle, or some part of a secret sauce–your guests will love this personal detail, and you'll probably want to open your own spice shop afterwards [wink]. Think along the lines of something like this Sweet and Smokey BBQ Dry Rub Mix from the Kitchen Treaty:
6. Fresh Flowers for All
Here's the thing–so many plants and flowers are used to carry out a beautiful wedding. However, we must ask who goes home with these beautiful greens? You can either regift some of your ceremony decor or purchase budget-friendly herbs to send home with your guests. Who wouldn't want a pot of fresh basil? Or a sprig of clean mint? Yes, you can achieve a farmer's market status with minimal effort.
7. Pucker Up For A Kiss
Chapstick. This might sound totally weird, but if you are a chapstick person–it won't. Chapstick is a personal hygiene item of almost mythical qualities. Mythical in that it can completely disappear without a trace. That's why a backup chapstick is always welcome. While 10% of your guests won't be chapstick addicts, the other 90% will be oh so grateful for an extra tube.
8. Sweeter than Candy on a Stick
Candy is always a great option for favors. You can kill two birds with one stone by gifting this sweet treat and photo prop combo. You can display these favors by your photo booth. Guests will love taking selfies and then later eating these lollipops.
9. The Inside Scoop: A Wedding Program
For something totally disposable and totally funny you can opt for gifting a detailed wedding guide. Include humorous details about your wedding party, a tongue-in-cheek itinerary, and a warm thanks to your guests. You can be as elaborate as you want with this, but take a look at Offbeat Bride's archives of funny wedding programs.
10. Spicy Love
You can never have too many choices when it comes to salsa and hot sauce. For an inexpensive and thoughtful favor you can make this salsa and gift it in cute little jars. What is great about this recipe is that you can make it ahead of time and freeze it before your big day. Enlist some friends and family and have a great night making salsa!
11. No Cold Feet
Have you ever attended an outdoor wedding that ended up being FREEZING? Weather can be an especially tricky force to plan around. If you live in an area with unpredictable weather, or you know that it will be cold at your venue–plan ahead with these fuzzy favors. Warm socks are always appreciated!
12. All I Got Was This Lousy Mug
Most people won't put up with a mug with your wedding date on it…unless it's funny! This couple chose to be funny while nodding towards the traditional mugs/koozies/cups that have a wedding date etched on them. You can bet I would keep that mug and smile every time I saw it.
13. A DIY That Guests Have To DIY
If your theme is more whimsical, you can opt for this fun treat. Who doesn't love a candied apple? With minimal effort on your part, you can create a colorful and fun favor for your guests. What's more, you can customize with M'n'Ms in your color scheme. Tying with a ribbon rather than baker's twine can give this favor a more chic look overall. Check out the tutorial here.
14. Watch a Garden Grow
For the couple with eco-friendly intentions, these seed bombs are a great option for wedding favors. Handmade with hundreds of tiny seeds they promise to burst out with copious blooms. Even the worst gardener will be able to plant these babies.
15. A Meal They Will Never Forget
Ok, so if we speak for the majority, wedding food can be delicious but slightly lacking. After an exciting night of dancing, your guests will be ready for something more substantial. With minimal effort you can cement your big day as being the very best wedding they ever attended with a food truck. We recommend something greasy and belligerent. A meal that flies in the face of pretty gowns and flowery tabletops. Your guests will adore this parting gesture and your wedding will forever be remembered in a golden light.
Whatever you choose to gift to your guests, make sure it is a reflection of your personality! Have a unique idea for wedding favors? We'd love to hear from you!