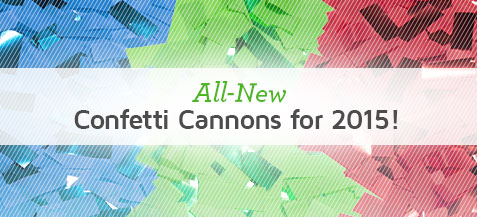 Our exclusive line of handheld confetti cannons are back in stock and better than ever! With more confetti per cannon and four new varieties to choose from, our 2015 lineup of confetti cannons are the perfect choice for birthdays, graduation parties, gender reveal parties, theater and church productions, or sporting events.
Our full lineup of confetti cannons now includes four new options:
Each of these cannons contains a mix of metallic mylar and standard paper confetti for a vibrant, glittering display. Plus, the blue and pink confetti cannons are specially-packaged so they can be used for gender reveal parties! The generic label ensures an incredible surprise when the blue or pink confetti shoots out, and the 10-foot launch distance makes it ideal for indoor use.
Plus, we've improved on all of our existing confetti cannons, which are now packed with 50% more confetti! Visit our confetti cannon page to browse all of the options available, and start planning your next event with confetti today!
How do you use our confetti cannons? Share your story in the comments, or email sales@superiorfireworks.com. We especially love photos and videos!
(Updated 10/1/2015 to include our new pink confetti cannons)