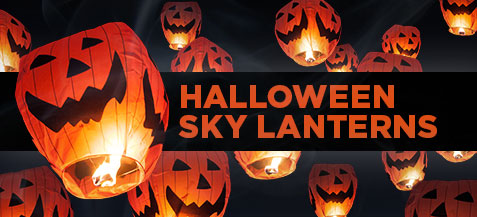 Oh I just love decorating for Halloween.  It's a secret favorite holiday of mine.  I have two little ones at home (both under the age of 5) so we keep our Halloween decorations very kid friendly.  For example, the skeleton we have up in the house has a smile and a bow tie on.  And that giant spider web we have on our living room wall is adorned with a big, shiny, pink spider.
And my kid-friendly Halloween style is just one reason why I just adore these Halloween Sky Lanterns.  I think they're just the cutest.  I love that I can do these with my kids and they'll be squealing as they watch these giant pumpkin heads float into the sky.  They would also be perfect to use at a Halloween party.  Just picture a group of your friends lighting these together and sending them off into the sky.  You would look up and see these orange glowing lanterns lighting up the night sky.  You'd win Neighbor of the Year for sure!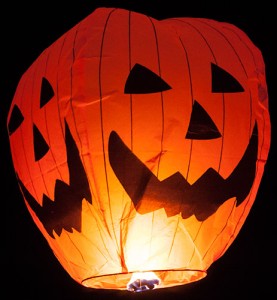 Like the rest of our Sky Lantern products, these have a small fuel source in the middle that, once lit, will lift the lantern slowly into the sky with an orange glow.  These Halloween lanterns are made with fire-retardant, 100% biodegradable material.