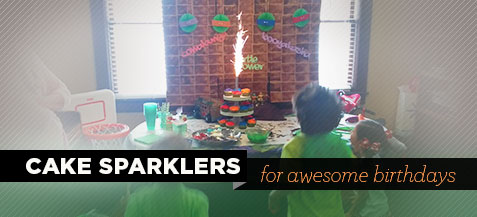 My son celebrated his 5th birthday recently (cue the tears).  We threw him a Ninja Turtle birthday party.  He decided to invite a group of five guy friends and one girl friend from his PreK class.  I couldn't wait to bring the cupcakes out because I had this awesome cake sparkler to use as the candle and I knew this group of five year olds would flip over it!
Isn't their jumping contagious and adorable!?! They loved it, as you can tell. This was my first time using the cake sparkler candle and I couldn't believe how nice and long the flame lasted.
These are perfect for any birthday party or wedding event. Don't forget – As with all of our pyrotechnic items, our cake sparklers must be shipped ground. Always order at least 5 business days before your event!