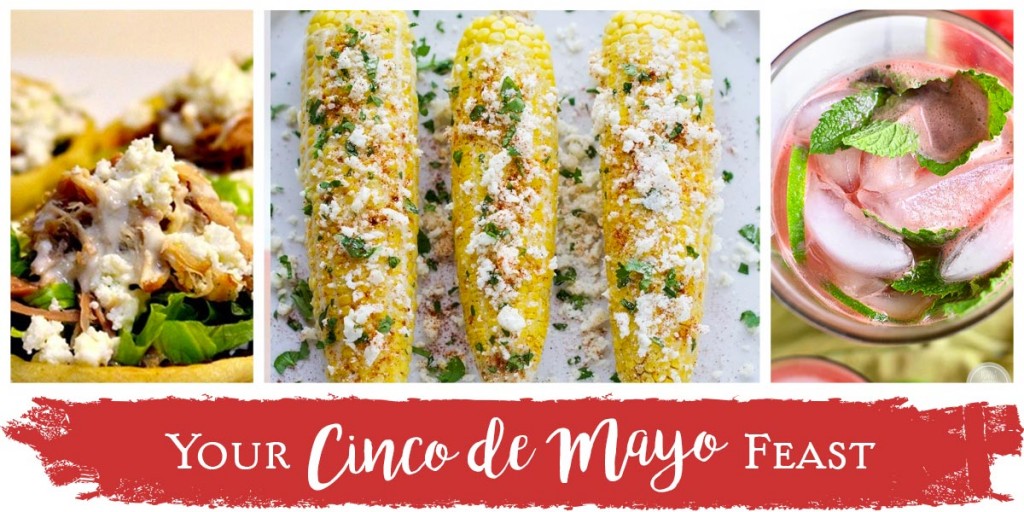 Raise your hand if you're ready to celebrate Cinco de Mayo! Tacos, guacamole, and margaritas are calling to us. But what is Cinco de Mayo really about?
Cinco de Mayo is often mistaken as the holiday celebrating Mexican Independence Day, but it actually commemorates a battle in which Mexicans defeated French forces at the Fort of Guadalupe in Puebla on May 5, 1862. It's one of those great underdog stories where the victorious army faced troops double their size.  While the French later went on to capture both Puebla and Mexico City, the victory is still celebrated because it inspired both pride and unity amongst Mexican forces.
Today, Cinco de Mayo is thought of as the great spring kickoff party. What better way to celebrate spring than with a fabulous spread of food shared with friends and family? We put together a little feast that goes beyond the typical taco menu (though there is absolutely NOTHING wrong with tacos). Have some fun this Cinco de Mayo and try a few new dishes to add to your spring/summer favorites.
A Cinco de Mayo Menu
Sopes
If you love tacos but are trying to be a little more creative, sopes are the way to go. Made from thick rounds of fried masa, sopes are like open-faced tacos with a softer, pillow-like shell. You can top them with just about anything–beans, shrimp, chicken, beef, or veggies. We like this traditional recipe from Mexico in My Kitchen which uses black beans, chicken, and cotija cheese.
Enchiladas
If you're entertaining a vegan crowd, or if someone in your group has food allergies, Mexican food can be a little tricky. However, there are plenty of ways to "fake" the cheese, skip the meat, and keep it gluten free. We don't often think of potatoes as a filler for enchiladas, but this potato and roasted poblano enchilada will tempt you to forgo a cheesy enchilada for something quite unique. Using a cashew base for the "cheese," these savory enchiladas are gluten-free and vegan friendly!
Mexican Street Corn
If something can be simultaneously refreshing and decadent, it's Mexican street corn. Mexican street corn takes your typical corn-on-the-cob and packs a flavorful punch of citrus, spice, and creamy cheese. It's a great stand alone treat, but it will pair perfectly with your main dish of sopes or enchiladas.
Agua Fresca
Margaritas aside, you're going to want something sweet to wash all this delicious food down. Agua fresca will keep with your Mexican theme and taste amazing. Unlike most juice drinks, agua fresca literally takes the essence of the fruit and enhances it with fresh herbs. The result is sweet, but not too sweet. There are countless recipes and flavor combinations out there, but we like this simple watermelon mint one because it doesn't add any extra sugar.
Tres Leches Cake
If you haven't made a Tres Leches Cake before, Cinco de Mayo is your chance to try it. It's a relatively simple recipe–basically just a yellow cake–soaked in three different types of milk. Sweetened condensed milk, evaporated milk, and half and half all soak overnight to make this totally decadent, creamy cake. It's the perfect way to finish off your feast and try something new.
We hope this little menu inspires you to try something new this Cinco de Mayo! Enjoy spending time with family and friends, and eat up some delicious Mexican food. Happy Cinco de Mayo, everyone!