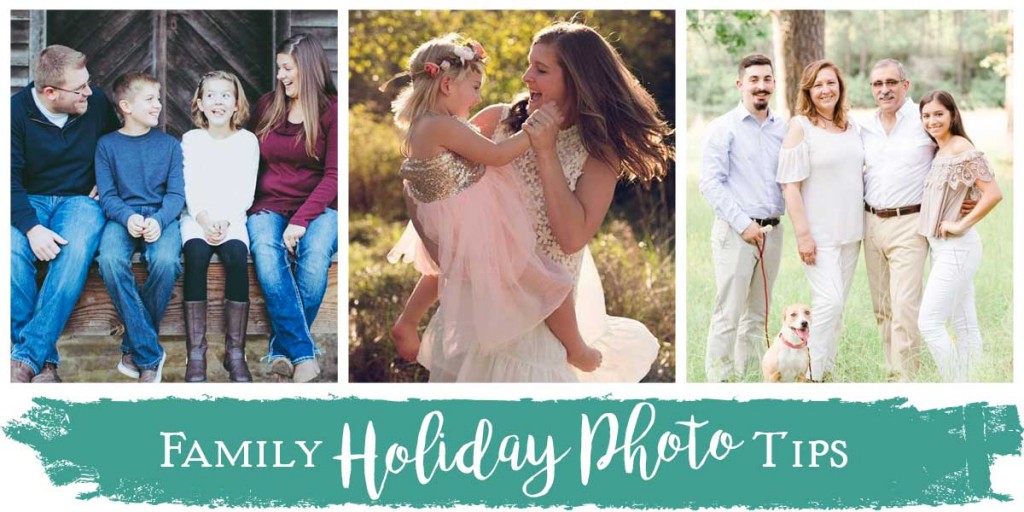 We are (roughly) one week away from Halloween, one month away from Thanksgiving, a month and a half away from Hanukkah, and two months away from Christmas. What does this lineup mean to you? Well, besides the obvious, "Oh no! It's time to start shopping!" you might also realize it's time to start thinking about those holiday cards.
Those holiday cards and photos really sneak up on you, and we want to help you prep. That's why we asked some of our photographer friends to help give you the information you need to get the best holiday photos ever.
Pro Tips for Taking Family Photos
Know Your Photographer
It should go without saying, but understanding your photographer's style is key in getting the photos you want. Lindsey from Lindsey Portugal Designs recommends reviewing the photographer's portfolio, blog, and Instagram before booking.
"If you don't like the photos you are seeing from that photographer, you most likely won't like the ones you receive. Each photographer has their own style, and it is important that you match that style with YOUR style."
Remember that how a photographer edits your photos will the outcome as well. Check out how they pose clients, what settings they tend to favor, and the type of filters they use.
Determine Your Outfit Style
Most photographers are versatile and adept at catering to the different styles and interests of their clients. However, it's always good idea to refer back to their portfolio and observe how their clients typically dress. If there is one thing photographers always agree on, it's to avoid matching too much. Kaylie Cole from E. Hamilton Photography likens over-matching to killing the creative soul of a photographer.
Don't be responsible for death of the creativity that lives in your photographer's heart. Wear clothes that match, but don't all wear the same thing. There is nothing worse than for a photographer to arrive at your session to see you, your spouse and all 6 of your children wearing a plain, navy blue long sleeve shirt. If you need styling tips, ask your photographer! I'm sure they'd love to send you some ideas!
When planning your outfits, keep in mind the setting for your photos. Taking photos in a field? Consider wearing pastels or neutral colors that will blend well with foliage. Urban setting? Opt for brighter colors that will pop against the grey background of buildings and sidewalk.
Layers and accessories can help to create a unifying look without being too matchy. Keep in mind that scarves, vests, and even hair bows will pull the look together.
Keep Comfortable
The absolute worst thing you can do when taking photos is look overly posed and set up. The best photos are the ones where you show your true selves–being happy! Ashley Guinn from Max Fisher Studios urges her clients to do whatever it takes to get that real smile:
"Act silly, tell dumb jokes, just do whatever it takes to get genuine smiles. I try to guide clients to look natural and not overly posed and stiff. Keep them engaged with each other."
The photos you will enjoy the most are the ones where your family is genuinely having fun. If you know your kids (or spouse) might get a little stiff in front of the camera, plan for some activities during the photo session. For example, a family tickle fight is always guaranteed to get that genuine smile. Other ideas include running, jumping, and even blowing bubbles.
Remember who the expert is.
Sometimes, as parents, we face the difficult conundrum of putting our kids in their place while pleasing the photographer. In the case of family photos? Your photographer takes precedence. As Kaylie Cole from E. Hamilton Photography says,
Often times the best moments captured on camera are the ones when you are talking to or hugging your child. These are the genuine moments you want to be captured. Sometimes the photographer is intentionally NOT telling your kids to look at the camera. Telling your kids to "Look at the camera! Look at the caaameraaaa, LOOK AT THE CAMERAAAA!!!" Isn't always helpful. It might be causing your kids to feel stressed out and it usually results in a photo of you with your mouth open.
Be Considerate of Your Pets
Lastly, remember your four-legged friends. Oftentimes, families choose to include their pets in holiday photos. After all, pets are a part of their daily lives and routine. Why wouldn't they include them? However, pets often pose a difficult problem when included in holiday photos; they are unpredictable and distracting. Lindsey Portugal has some awesome advice for tackling this problem:
"If you do decide to include pets in your family session, make sure to bring along a friend who can watch the pet for some of your session. Many times the pet will only be in a few shots, and you don't want to have to leave your pet in a car! "
We hope you enjoy these tips from some of our favorite photographers. A huge thanks to Lindsey, Kaylie, and Ashley for contributing.