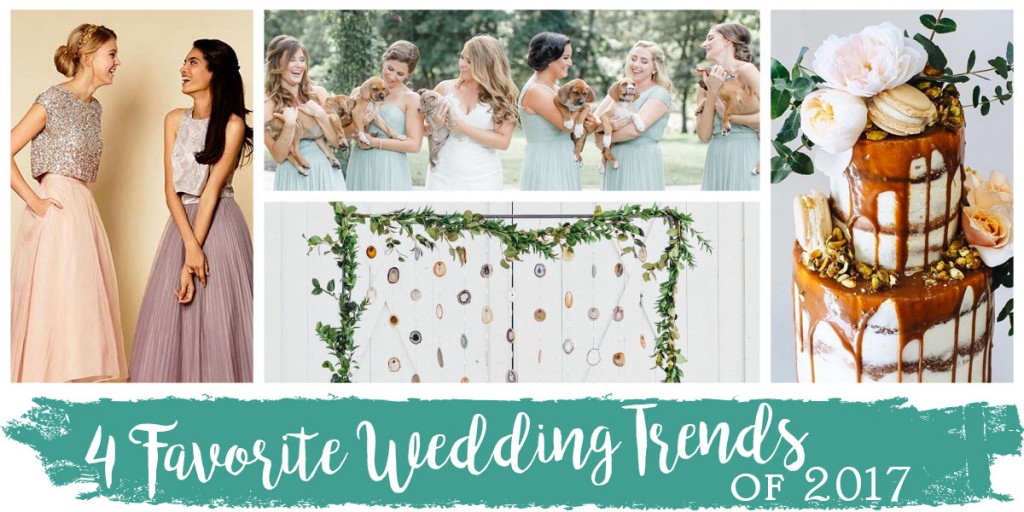 One of the fun things about being in the wedding industry is getting to see how trends evolve and change each year. As we head into the peak of wedding season–May through July–here are four of 2017's wedding trends we can't get enough of.
Two-Piece Gowns
When it comes to planning a wedding, the first thing any bride is thinking about is her wedding dress. Really, the wedding starts with the dress, followed by the bridesmaid dresses, followed by everything else. This year we're seeing a shift in both wedding dresses and bridesmaid dresses.
Enter the two-piece gown. What's fun about this look is that it pairs casual with elegance and gives room for important things like comfort. And pockets.
Brides are also opting for the two-piece look. It's fresh, fun, and extremely customizable. Two-piece gowns are also a great option for beach and destination weddings.
Stone Age 2017
2017 is kicking it back real old school with rocks. Well, not just any rocks. Marble, geodes, and agates are the trendy rocks of 2017. We'll see these textures play out in everything from invites, to cakes, to seat charts, and decor.
One fun way to incorporate agates is in your ceremony backdrop. Everyone wants a beautiful focal point for the exchanging of vows. Threading agate slices provides a beautiful, minimalistic backdrop that can be customized according to color and theme. The variety of agate colors and textures makes for a charming medium.
If you lack the tenacity required to thread agate slices, there are other ways to incorporate them in your ceremony backdrop. This five-foot agate slice replica is the perfect backdrop for all this greenery. Using a replica gives you the freedom to pick any color you want!
Translucent/Drippy Cakes
Last year the whole "naked" cake trend came onto the wedding scene and it changed the way we view cake. Instead of covering each tier with multiple layers of frosting or fondant, the naked cake allowed you to see through each layer without the frosting. This year, the naked cake wears a sheer veil of frosting that is almost translucent. To add some decadence, a rich, drippy glaze can pour from the top tier ever so slightly down the cake.
The translucent cakes are extremely versatile since they're neutral in color, and look beautiful paired with fruit and flowers. Their fresh, honest appearance allows you to almost taste it before even biting into it.
Furry Friends
Last September, a bride named Sarah introduced the most "awwww" inducing wedding bouquet we've ever seen: puppies. The bridesmaids who walked down the aisle with puppies instead of flowers quickly became a viral sensation. What's so wonderful about this story is that the bride and groom were able to raise awareness for their nonprofit rescue organization, Pitties.Love.Peace. You can read more on the story here.
Sarah's decision to incorporate puppies into her wedding has lasting effects for 2017's wedding trends. The Knot predicts: "The hottest wedding guests have four legs and soft coats." This prediction is definitely one we're excited to see!
Weddings are a reflection of individual stories, style, and taste. That said, trends help to translate couples' personalities into their events. It's exciting to see how they build, layer, and evolve into new concepts and creations. Are you planning a wedding for 2017? We would love to hear what excites you most about the planning. Tag us with your ideas on Instagram @superiorcelebrations or just use #superiorcelebrations, and share with us on Facebook.