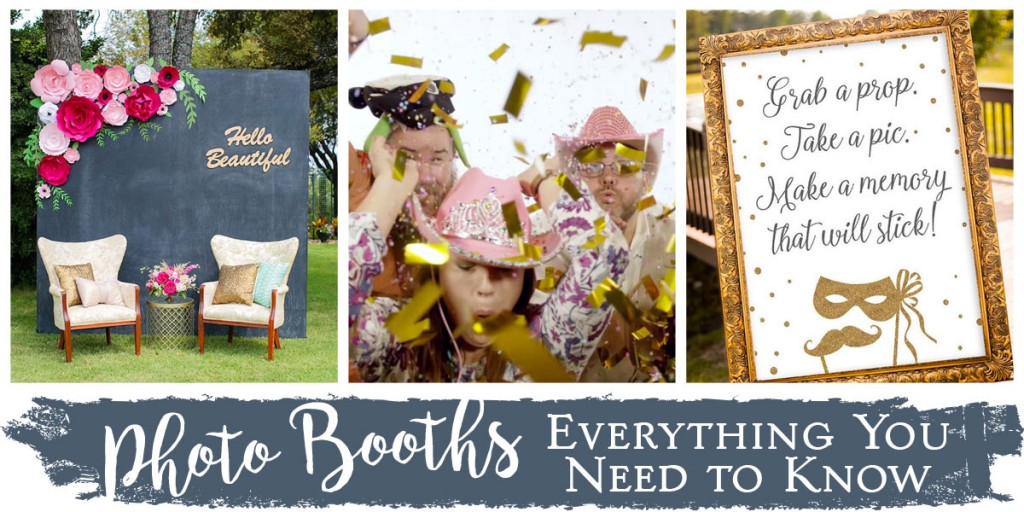 What started out as an innovative and edgy trend has now become a staple for most weddings and events. That's right, we're talking about the infamous photo booth. Photo booths are a favorite for events because they provide a fun activity and a memento for guests to keep. It's such a simple concept. However, with the constant shift in technology and social media, photo booths are always changing.
DIY Or Rentals
Photo booths can be as simple or elaborate as you desire. A simple perusal on Pinterest shows countless DIY backdrops and props for stunning photo booths. Setting up your own backdrop with fabric, flowers, and lights is a great option when you're trying to keep the cost minimal. Guests can take selfies, or you can assign a photographer to man the "booth."
When renting a photo booth, there are several things to consider. First, do you want an open-air photo booth or an enclosed one? Open-air photo booths allow for more people to fit into the frame and gives everyone a chance to watch and observe the shenanigans.
An enclosed booth is much smaller and gives a sort of "privacy" to those taking the pictures. Enclosed booths can be a great option if your venue doesn't have the space to section off a backdrop. If you use an enclosed booth, be sure to have an announcement as to where the photo booth is located. The last thing you want is to have your guests miss out on this great opportunity.
The Do's and Don'ts of Photo Booths
DO match your booth to your wedding mood. Kari Dirkson of Feathered Arrow Events cautions to avoid being "overly cheesy" and to "pick one that vibes well with your wedding. It's fun when couples think 'outside the box' and do something like turn an old Volkswagen Van into boho-chic photo booth."
DO use props. Props are fun and encourage people to let loose and take fun photos.
DO take multiple photos and turns inside the booth. Sometimes guests get more enthusiastic the second or third time in the booth, so encourage people to take several turns. That said, DON'T be a booth hog. Make sure others get a chance before you take another turn.
DON'T allow drinks near the booth. You don't want to accidentally spill on the props or have anyone slip on the floor. Keep the drinks far away to avoid any mess.
DON'T squeeze too many people into the booth. The more people you put in front of camera the likelier you are to have an accident.
And finally, DO use confetti cannons for some epic photo booth fun! Confetti cannons pack so much excitement that your guests will have a blast using them in the booth. These will definitely be your favorite wedding photos.
The Future of Photo Booths
From weddings, to Christmas parties, to sporting events, to farmer's markets, photo booths are a feature that is now fixed in our society. So what does the future of photo booths look like?
Jerome Maas, managing director at The Flash Pack, a photographic experience studio, says, "The industry is seeking to make the booths as exciting as possible, with new ideas emerging such as Gif booths, slow-mo booths and g-force face that blows wind into your face at 320km/h…Facebook's new introduction to short looping video is also an exciting development that will no doubt be utilized by the photo booth industry" (Event Magazine). It's obvious that photo booths will rise and meet the continued upgrades in social media. 
Did you use a photo booth at your event? We would love to see the photos! Feel free to tag us @superiorcelebrations on Instagram, or find us on Facebook.