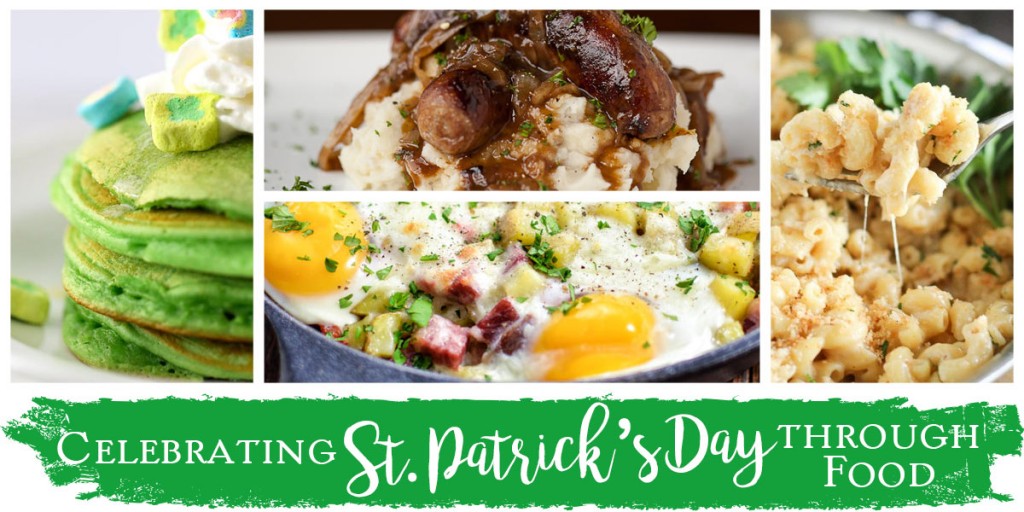 This Friday is St. Patrick's Day and we have found the perfect itinerary for celebrating all day long–eating!
If you consider yourself a "clean eater," St. Patrick's Day is probably going to have to be a cheat day. Corned beef, potatoes, and Guinness–oh my! This is a day to indulge in hearty comfort food and rich desserts. You can pick back up with your protein shakes on Saturday. Friday is going to be fun.
St. Patrick's Day Menu
Breakfast
Let's start with the most important meal of the day, breakfast. A traditional Irish breakfast is not for the faint of heart. Consisting of bacon, black and white puddings (which are actually sausages made up of pork meat, oats, spices AND pork blood–yikes), potatoes, mushrooms, soda bread, and finished off with a side of baked beans. Yes, this breakfast could alarm folks who are used to eating a simple bowl of Cheerios.
If pork blood and beans for breakfast freaks you out, we found a pleasant alternative. Corned Beef and Eggs Hash will totally keep with your Irish-themed menu.
If this decadent breakfast is a little much for you first thing in the morning, you can whip up some simple pancakes and add green food coloring. This is always a personal favorite in my family because my kids rally for any food that is colored oddly. Thanks, Fruit Loops, for inspiring that love.
Lunch
Moving on to lunch, how about some Guinness and Irish Cheddar Macaroni and Cheese?
Pay homage to the national drink AND the delicious treat that is Irish cheddar. This is a perfectly comforting dish that stands alone or could be paired with a sandwich or salad. If your kids aren't really thrilled with complicating macaroni and cheese you can placate them with a rainbow fruit platter. I find that Cool Whip clouds go a long way in cheering my children.
Dinner
After a breakfast of corned beef, and a lunch that involves Guinness you might not think dinner is even a possibility. Well, think again. You're celebrating like the Irish and they can put away both food and drink.
If you've traveled to the United Kingdom, chances are you got familiar with Bangers and Mash. With such a wild name it might come as a surprise that bangers and mash is actually just sausage on potatoes. So where did this meal get it's crazy name?
During World War I, food shortages dramatically affected the amount of meat available. Butchers would form sausages out of cheaper staples like rusk, cereal, and water. When the sausages hit the pan, they would crackle and sizzle much louder than traditional sausage. The explosive "banging" they did in the pan lent the name bangers, and the name stands today.
Don't worry, bangers are no longer made out of scraps. You can find high quality sausage and still nod to the history of this dish. Bratwurst and buttermilk mashed potatoes covered in a Guinness gravy will get the job done. Get the recipe here.
Dessert
Your belly might not be able to take another ounce of Irish cuisine, and if that's the case you can finish off with a small swig of Irish coffee. Got room for more? Take a slight detour from the Irish and snag that last box of Thin Mints you know you have stashed in your freezer. Frozen Thin Mint Cheesecake is easy to make, delicious to eat, and a great way to get rid of those haunting Girl Scout Cookies. It may not be Irish, but it is green.
So there you have it–your St. Patrick's Day festivities all organized by meal times. We hope you have a wonderful holiday and make sweet memories with your friends and family. Want to share how you celebrate? Tag us on Instagram with #superiorcelebrations or tag us on Facebook. We love to see how our customers spend their holidays!